Chicken Enchilada Chili
A Spicy Twist on a Chicken Dish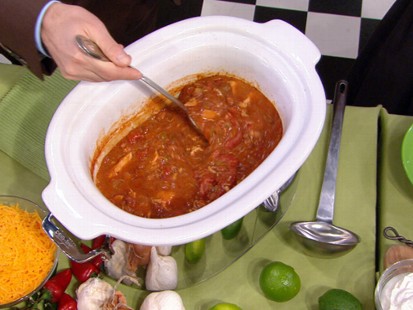 The queen of the slow-cooker cooks three versions of her mouthwatering chili.
From the kitchen of Stephanie O'Dea
|
Stephanie O'Dean knows how to make dinner easy. Here's what she though about this recipe:
Oh, I LOVED this chili! And I loved it even more that Adam and the kids loved it, and that the baby doesn't seem to mind when I eat beans. I made an afternoon snack of nachos with some of the leftovers. Divine. This is such a fun twist on traditional chili, and I absolutely adored every last drop. There is definitely a bit of heat in the sauce—if your family doesn't like much heat, start with 1 teaspoon chili powder. You can always add more later. Like many soups, stews, and chilis, the leftovers are even better than the original!
Ingredients
11/2 cups prepared enchilada sauce (read labels carefully if avoiding gluten)
2 (14.5-ounce) cans tomatoes with seasoning (your choice: I had garlic and olive oil on hand)
2 (15-ounce) cans pinto or kidney beans with juice (or 1 cup dry pinto beans, soaked overnight)
2 celery stalks, chopped
1 onion, diced, or 1 tablespoon dried minced onion flakes
1 to 2 teaspoons chili powder
1 teaspoon ground cumin
11/2 pounds chicken (thighs, legs, breasts—your choice)
shredded cheddar cheese and sour cream for serving (optional)
Cooking Directions
Use a 6-quart slow cooker. Pour the enchilada sauce and tomatoes into the bottom of the removable stoneware insert. Add the beans, celery, onion, and spices, and stir to combine. Place the chicken on top.
Cover and cook on low for 7 to 8 hours, or until the flavors have combined. If you are using dry beans, you may need to cook longer to fully soften the beans. If your chicken has bones, fish the bones out before serving. Serve with shredded cheddar cheese and a dollop of sour cream, if desired.
Click here to check out the Stephanie's new cookbook More Make It Fast, Cook It Slow: 200 Brand-New, Budget-Friendly, Slow-Cooker Recipes
This recipe was styled by chef Karen Pickus for Good Morning America.
Other Recipes That You Might Like