'Crazy, Sexy Diet:' Kris Carr's 'Make Juice, Not War'
Low-Fat Drink, Perfect for Those On-The-Go!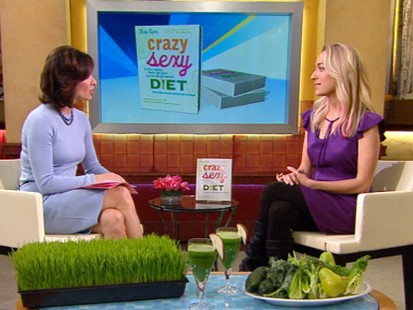 Kris Carr shares health tips from her new book, "Crazy Sexy Diet."
From the kitchen of Kris Carr
|
"It's my motto and my morning beverage. This recipe makes almost 32 ounces." - Kris Carr
Ingredients
2 large cucumbers (peeled if not organic)
4 to 5 stalks kale
4 to 5 romaine leaves
4 stalks celery
1 to 2 big broccoli stems
1 to 2 pears
1-inch piece (or smaller) ginger root
Cooking Directions
Juice all ingredients. Other optional greens: parsley, spinach, and dandelion. Add sweet pea or sunflower sprouts when available.
Other Recipes That You Might Like