Classic Dry-Fried Pepper and Salt Shrimp
Ring in the Chinese New Year With this Classic Dish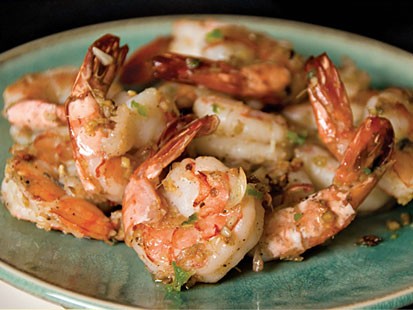 From the kitchen of Grace Young
There are many version of this beloved dry stir-fry. The absence of liquid in the stir-fry allows you to experience a concentrated shrimp flavor accented by garlic, ginger, chilies, and Sichuan peppercorns. For this reason, it's imperative to use the freshest ingredients. In recent years my fishmonger has been carrying fresh shrimp and in this recipe you can really taste the difference. Defrosted frozen shrimp will work; just make sure it's the best quality possible.
Ingredients
2 tablespoons plus ½ teaspoon salt
1 pound large shrimp, peeled and deveined
¼ teaspoon sugar
¼ teaspoon roasted and ground Sichuan peppercorns
2 tablespoons peanut or vegetable oil
1 tablespoon minced garlic
1 tablespoon minced ginger
1 teaspoon minced jalapeno chili, with seeds
Cooking Directions
In a large bowl combine 1 tablespoon of the salt with 1 quart cold water. Add the shrimp and swish the shrimp in the water with your hand for about 30 seconds. Drain. Add 1 more tablespoon salt to the bowl with 1 quart of cold water and repeat. Rinse the shrimp under cold water and set on several sheets of paper towels. With more paper towels, pat the shrimp dry. IN a small bowl combine the remaining ½ teaspoon salt, sugar and ground Sichuan peppercorns.
Heat a 14-inch flat bottomed wok or a 12-inch skillet over high heat until a bead of water vaporizes within 1 to 2 seconds of contact. Swirl in 1 tablespoon of the oil, add the garlic, ginger and chili, then using a metal spatula, stir-fry 10 seconds or until the aromatics are fragrant. Push the garlic mixture to the sides of the wok, carefully add the shrimp, and spread them evenly in one layer in the wok. Cook undisturbed 1 minute, letting the shrimp begin to sear. Swirl in the remaining 1 tablespoon oil and stir-fry 1 minute or until the shrimp just begin to turn orange. Sprinkle on the salt mixture and stir-fry 1 to 2 minutes or until the shrimp are just cooked.
Recipe Summary
Main Ingredients: shrimp, salt, pepper, sugar, sichuan peppercorns, peanut oil, garlic, minced ginger, jalapeno chili
Course: Side Dish, Main Course