Pollo Borracho
Check Out This Tasty, Boozy Chicken Dish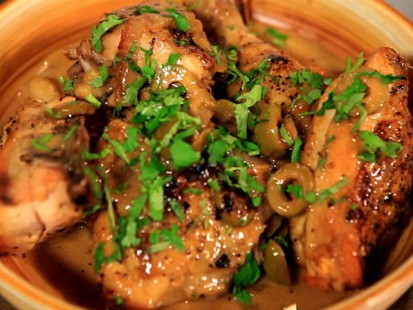 Exec. Chef Aaron Sanchez bakes chicken boozy at Centrico.
From the kitchen of Aaron Sanchez
|
Try this tasty chicken dish for dinner tonight.
Ingredients
(4-pound) frying chicken, cut into 8 pieces
1 teaspoon dried Mexican oregano
1/2 cup extra-virgin olive oil
1 large onion, sliced thickly
3 cloves garlic
1 bay leaf
1/2 cup dry white wine
1/2 cup tequila
1 cup Spanish olives, drained
Cooking Directions
Preheat oven to 375 degrees F.
Season chicken with salt, pepper, and oregano. In ovenproof skillet, heat olive oil and brown chicken pieces on all sides. Remove chicken from pan and set aside.
Reduce heat, add onion and garlic, and cook for 5 minutes. Add the bay leaves, wine, tequila, and olives. Return chicken to the pan, cover, and cook in the oven until tender and browned, about 40 to 45 minutes. Remove and serve.
Other Recipes That You Might Like