Crab Meat Crèma Fresca
Start Your Meal Off With This Fresh Seafood Dish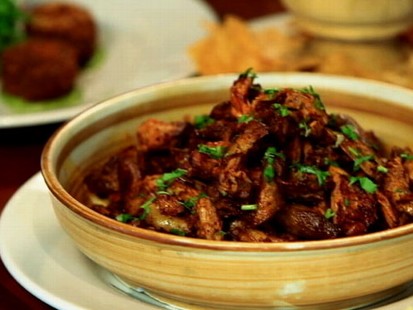 Exec. Chef Aaron Sanchez translates foods with Epicurious.
From the kitchen of Aaron Sanchez
|
Add this seafood dish to you dinner tonight.
Ingredients
6 ounces Dungeness crabmeat, picked over, patted dry, flaked
1/2 cup crème fresca
1/4 cup finely chopped fresh chives plus additional chives for garnish
1/4 teaspoon ground white pepper
juice of half lime
1 tablespoon of hot sauce( Cholula)
tostadas
Cooking Directions
Place crabmeat in medium bowl. Fold in crèma fresca, 1/4 cup chives, white pepper, hot sauce, lime jucie and hot sauce Season with salt. (Can be made 2 hours ahead. Cover; chill. Stir before using.)
Arrange a spoonful of crab mixture on tostadas serve on platter. Garnish with additional chives.
Other Recipes That You Might Like