Eggplant Parmesan
Enjoy This Favorite Italian Dish Guilt-Free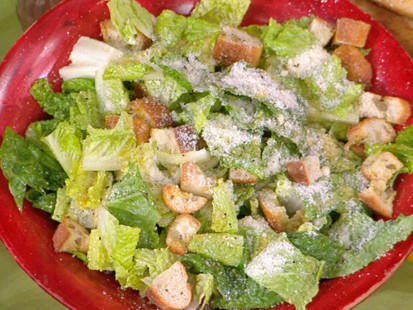 The famous chef has diet-friendly versions of all your favorite Italian dishes.
From the kitchen of Emeril Lagasse
|
Emeril's eggplant parmesan is full of flavor but light on calories.
Ingredients
1 medium eggplant, peeled and sliced into 1/3-inch slices
Salt
Extra virgin olive oil, as needed
About ¾ cup of your favorite marinara sauce
15 to 20 very thin slices small sweet tomatoes, such as romanita, cherry, grape or cherub
Freshly ground black pepper
6 ounces fresh mozzarella, thinly sliced
1 ounce freshly grated parmesan cheese
Chiffonade of fresh basil, for garnishing
Cooking Directions
Place the eggplant slices on paper towels and sprinkle lightly with salt. Set aside for 10 to 15 minutes. Blot eggplant dry with clean paper towels.
Preheat the oven to 400 degrees F.
In a 12-inch nonstick skillet over medium heat, heat 1 ½ tablespoons of the olive oil. When hot, add the eggplant slices, in batches if necessary, and cook until lightly golden, about 5 minutes per side, adding a bit of additional olive oil for the second side. Transfer browned eggplant slices to a large baking sheet and repeat until all of the eggplant slices are cooked.
Top each slice of eggplant with 2 to 3 teaspoons of the sauce and one small slice of tomato. Place a small slice of mozzarella on top of each piece of eggplant (you will likely need to cut the mozzarella slices in half or quarters if the mozzarella you have purchased is large), then sprinkle each with a little of the parmesan cheese. Sprinkle lightly with pepper. Bake uncovered until cheese is just melted and bubbly around the edges, about 7 minutes. Serve on small plates, garnished with the basil.
This recipe was styled by chef Karen Pickus for Good Morning America.
Other Recipes That You Might Like