Lemon & Spice Chicken
Healthy and Easy Chicken Dinner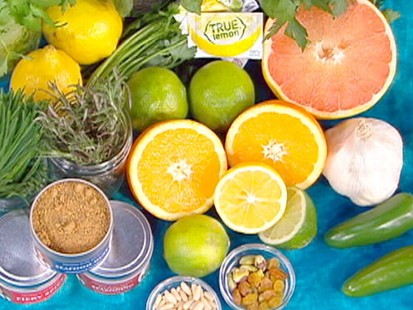 Tips and tricks for healthier cooking in the new year.
From the kitchen of Diane Henderiks
Ingredients
1/4 C freshly squeezed orange juice
1 T fresh squeezed lemon juice
1/4 C low sodium chicken broth
Juice of 3 lemons
3 garlic cloves; minced
lots of freshly ground black pepper
4 (four to six) ounce chicken breasts; lightly pounded
1/2 C whole wheat flour
2t finely chopped fresh thyme
1T brown sugar
1t onion powder
1t granulated garlic
1T dried parsley
1/4 t turmeric
1/4t kosher salt
lots of freshly ground black pepper
Cooking Directions
Preheat oven to 350°
In a small bowl whisk together orange juice, lemon juice and chicken broth. Set aside
In another small bowl whisk lemon juice, garlic & pepper together Place chicken and lemon juice mixture in large ziplock bag and marinate for at least 4 hours (the longer the better!). Remove chicken breasts from marinade and place on platter.
In a large zip top bag combine flour, herbs and spices, zip the bag and shake to combine. Add chicken breasts and shake to coat. Set aside. In medium Dutch oven, heat oil over medium heat. Add chicken and sear 3 minutes or until browned. Turn and sear 3 more minutes. Cover and bake for 10 minutes. Pour reserved orange and lemon juice mixture over chicken, uncover and bake and additional 15 minutes more or until done. Enjoy!
This recipe was styled by chef Karen Pickus for Good Morning America.
Recipe Summary
Main Ingredients: orange juice, lemon juice, chicken broth, lemons, garlic, pepper, thyme, sugar, onion powder, parsley, tumeric, salt
Course: Dinner