Ragu Napoletano
A Hearty Italian Sauce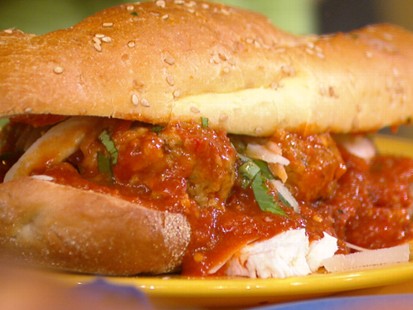 The world-famous chef puts a gourmet twist on typical game-day grub.
From the kitchen of Mario Batali
|
Italian sauces are delicious, but generally difficult to get right. Mario Batali is here to help with his classic and simple ragu.
Ingredients
¼ cup extra-virgin olive oil
8 ounces boneless veal shoulder, cut into chunks
8 ounces boneless beef chuck, cut into chunks
Salt and freshly ground black pepper
1 onion, finely chopped
¾ cup dry red wine
Two 28-ounce cans plum tomatoes with their juice, passed through a food mill
8 ounces sweet Italian sausages
Pinch of hot red pepper flakes
Cooking Directions
In a large Dutch oven, heat the olive oil over medium heat until smoking. Season the veal and beef with salt and pepper to taste, and sear, in batch to avoid overcrowding the pot, until dark golden brown. Transfer to a plate.
Add the onion to the pot and sauté, scraping the bottom of the pot with a wooden spoon to loosen any brown bits, until golden brown and very soft, about 1- minutes. Add the wine, browned meat chunks, tomatoes, sausages, and red pepper flakes and bring just to a boil. Reduce the heat to a simmer and cook, stirring occasionally and skimming off the fat as necessary, for 2 ½ to 3 hours.
Remove from the heat, remove the meat and sausages, and set aside. Adjust the seasoning with salt and pepper and allow the sauce to cool.
This recipe was styled by chef Karen Pickus for Good Morning America.
Recipe Summary
Main Ingredients: olive oil, veal shoulder, ground chuck, pepper, onion, red whine, tomato, italian sausages
Course: Dinner, Main Course, Pasta, Starch
Other Recipes That You Might Like