Polpettine alla Napoletana
Feast on This Italian Favorite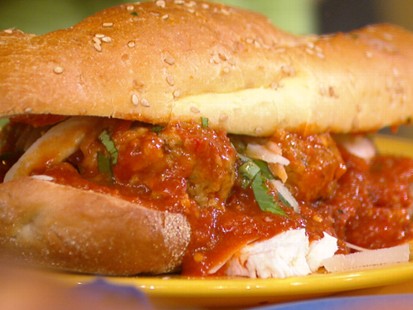 The world-famous chef puts a gourmet twist on typical game-day grub.
From the kitchen of Mario Batali
Looking for something different for dinner? Try this rustic and delicious Polpettine alla Napoletana.
Ingredients
3 cups Basic Tomato Sauce
3 cups fresh breadcrumbs
2 cups whole milk
1 1/2 pounds ground beef
3 eggs
3 garlic cloves
1/2 cup grated pecorino cheese, plus more for serving
¼ cup pine nuts, toasted (baked for 8 minutes in a 400° F. oven)
¼ cup finely chopped parsley
Extra-virgin olive oil, for drizzling
Parsley leaves, for garnish
2 tablespoons kosher salt, plus more to taste
Freshly ground black pepper, to taste
Cooking Directions
In a large, heavy-bottomed skillet, bring tomato sauce to a fast simmer.
Put the breadcrumbs in a medium bowl and pour the milk over. Set aside.
In the bowl of a countertop mixer fitted with a paddle or dough hook, combine the beef and the eggs. Grate the garlic over the bowl with a microplane. Add in grated pecorino, toasted pine nuts, parsley and salt. Mix briefly just to combine.
Add the milk-soaked bread crumbs to the meat mixture and mix for about one minute until it comes together, but still has some texture and moisture.
Form the mixture into 12 to 15 meatballs, each smaller than a tennis ball but larger than a golf ball. Gently add the meatballs to the sauce and bring to a boil. Lower heat to a simmer and cook for 25 to 30 minutes or until meatballs are cooked through.
Top the meatballs with parsley leaves, freshly grated pecorino and a drizzle of extra-virgin olive oil.
This recipe was styled by chef Karen Pickus for Good Morning America.
Recipe Summary
Main Ingredients: tomato sauce, bread crumbs, milk ground beef, garlic, eggs, percorino cheese, pine nuts, parsley
Course: Dinner, Main Course, Pasta, Starch