Delicious Super Bowl Sliders
Delicious Little Burgers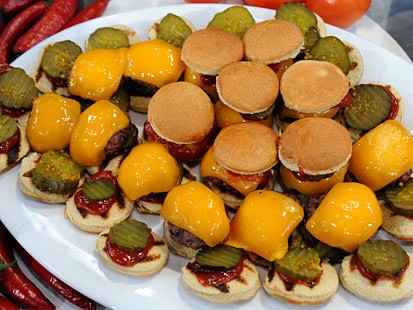 From the kitchen of Cristina Ferrare
These miniburgers are insanely good. Whenever I make them, I can't keep up with the demand—they're a major hit! They're my newest addition to Super Bowl Sunday, and I swear these burgers get as much attention as the game. They're also a great last-minute meal that will satisfy your whole family. You will be surprised how far a little bit of beef goes. Before I bring the burgers out I serve a cup of hearty soup and then serve these tasty, juicy morsels with coleslaw and potato salad.
Ingredients
2 packages (about 12 per package) Hawaiian dinner rolls or whole wheat hamburger buns
2 pounds chuck roast (have your butcher grind it fresh)
Kosher salt
Cracked pepper
6 slices sharp cheddar cheese, cut into quarters, at room temperature
Ketchup, squeezed right from bottle
Bread-and-butter pickles
Cooking Directions
With a 2-inch biscuit cutter, cut slider-size buns out of the dinner rolls. If the buns are too thick (they will be if you are using Hawaiian dinner rolls), just press down to flatten them before using the biscuit cutter. They will bounce back just a little, leaving you with the perfect buns.
Shape the sliders by rolling a golf ball–size meatballs between your palms, then pressing them into 2-inch-wide patties 3/4 inch thick. You should have enough beef to make 16 to 18 miniburgers, maybe more. Sprinkle both sides of the sliders with kosher salt and pepper.
Heat a grill pan or heavy skillet until searing hot. Brush a tablespoon of canola oil over the grill pan. Sprinkle the miniburgers with kosher salt. Place the miniburgers salt side down on the grill, and sprinkle the tops of the burgers with kosher salt. Grill for 1 1/2 minutes on each side, then flip over once more and add a slice of cheese on top of each burger. Grill for 1 minute, until the cheese has melted (if you have a large enough lid, cover the burgers, as this will help the cheese melt quicker). Transfer the burgers to a warm platter.
Grill the buns on the same grill pan, lightly toasting the inside tops and bottoms only (about 15 to 20 seconds).
To assemble the burger, put a squirt of ketchup and a pickle on the bottom bun, add the burger, and cover with the top bun. Serve immediately and wait for the compliments!
This recipe was styled by chef Karen Pickus for Good Morning America.
Recipe Summary
Main Ingredients: roast chuck, salt, pepper, cheddar cheese, ketchip, pickles
Course: Snack, Main Course