White Bean Puree on Grilled Sliced Baguette
Fill Up on This Healthy Dip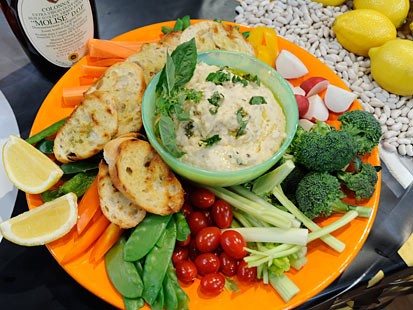 From the kitchen of Cristina Ferrare
|
I love beans, all kinds of beans, any way you can prepare them! I prefer to start with dried beans, and I recommend you take the time to soak them overnight. When they are cooked properly, the difference between them and the canned version is noticeable in flavor and texture. If you don't have the time to soak dried beans, though, canned beans are a great alternative; they're convenient and still packed with good-for-you protein and flavor!
Ingredients
2 cups fresh white beans, or 2 (15-ounce) cans of white beans, drained and rinsed
3/4 teaspoon kosher salt plus more for sprinkling
Cracked pepper
1 scallion, chopped
3 tablespoons fresh lemon juice
1/4 cup plus 1 tablespoon extra-virgin olive oil
2 sprigs fresh thyme, leaves pulled off
5 fresh basil leaves, chopped
6 lemon wedges, for garnish (optional)
1 baguette, cut into 16 (1/4-inch) slices
Cooking Directions
Soak the fresh beans overnight, or for a quick soak bring the beans to a boil, covering the beans by 4 inches; then turn off the heat and let sit for an hour. Then drain and rinse under cool water. Pour the beans back into a stockpot.
Fill a large stockpot with cool water, covering the beans by 4 inches. Do not add salt to the water, as this will make the beans tough. Bring to a boil. Turn the heat down to a gentle boil, cover, and cook until the beans are tender, usually 90 minutes for soaked beans (2 hours or more for beans that haven't been soaked). Taste test to see if the beans are tender. If they're not yet tender, cook until they are, checking every 15 minutes. Be careful to not overcook, or the beans will fall apart. If the beans have soaked up so much water while cooking that they're no longer covered by at least 4 inches of water, add more water.
Place the beans, 3/4 teaspoon salt (1/2 teaspoon salt if using canned beans), pepper to taste, scallion, and lemon juice in a food processor. Start to slowly add the oil, and process until smooth. Adjust the seasoning, adding more salt if necessary.
Pour into a serving bowl, and drizzle 1 tablespoon of extra-virgin olive oil over the top. Sprinkle on a pinch of kosher salt, cracked pepper, and fresh chopped thyme leaves. Garnish with chopped fresh basil and lemon wedges.
Serve with baguette slices, crostini, or crackers.
Cook's note:
Scrape the tiny herbs off sprigs of fresh thyme by running your fingers down the sides of the sprigs in the opposite direction the thyme is growing; they will fall off easily.
This recipe was styled by chef Karen Pickus for Good Morning America.
Other Recipes That You Might Like