Grilled Cheese and Ham Waffles
Waffles, Ham, Eggs and Cheese All in One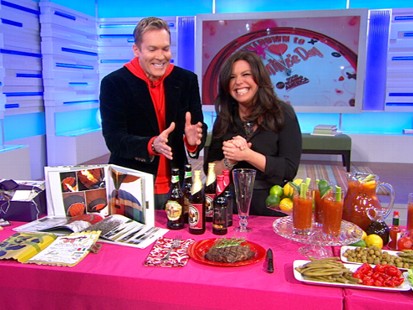 The famous chef shares romantic traditions and gift ideas for Valentine's Day.
From the kitchen of Rachael Ray
|
Rachael Ray makes Valentine's Day cooking easy with her cheesy, meat-filled waffles.
Ingredients
2 cups buckwheat pancake and waffle mix
2 tablespoons melted butter
2 large eggs
1 1/2 to 2 cups regular milk or 2% milk, divided
1 tablespoon dried Herbes de Provence or 3 tablespoons fresh herbs, finely chopped
1/3 pound Gruyere cheese, shredded (about 3/4 to 1 cup)
1/4 pound mild deli ham, sliced and chopped
Salt and white pepper
1 scant tablespoon Dijon mustard
Warm honey, fordrizzling or 4 eggs, up or over
Cooking Directions
Combine waffle mix with melted butter, eggs and 1 1/2 cups milk and herbs. Once well-combined, stir in cheese and ham, and season lightly with salt and pepper. Add mustard and a little more milk until just pourable. Cook in waffle iron until crisp, then top with warm honey or an egg up or over.
This recipe was styled by chef Karen Pickus for Good Morning America.
Other Recipes That You Might Like