David Guas's Baby Buttermilk Beignets
Check Out This Warm, Yummy Buttermilk Beignet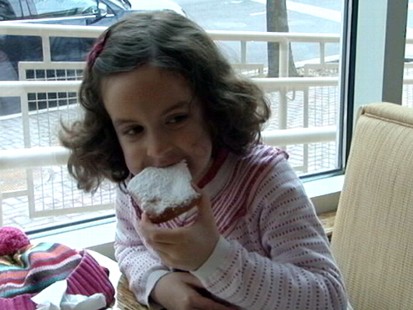 Chef David Guas' personal recipe for a Louisiana doughnut.
From the kitchen of David Guas
|
Fry up some warm pastries for breakfast or a toasty treat
Ingredients
3/4 cup whole milk
1 1/2 cups buttermilk
3/4 ounce fresh compressed yeast (or .375 ounce dry yeast)
3/4 teaspoon granulated sugar
5 1/2 cups bread flour
1/2 teaspoon baking soda
3/4 teaspoon salt
peanut oil for frying (or Canola oil)
powdered sugar for garnish
Cooking Directions
In a heavy saucepan, heat milk over medium heat until small bubbles form. Remove from heat and temper in buttermilk. Add yeast and granulated sugar. Pour mixture into mixing bowl. Add all dry ingredients and mix on low with dough hook until combined. Place dough in greased plastic container, covered, in a warm, dry place for 30 minutes. Turn dough onto a floured surface and form a ball. Roll out dough on a floured surface, and then cut into 1.5-inch squares. Place beignets on sheet pan lined with greased parchment paper. Wrap with plastic wrap and store in refrigerator until ready to cook.
On the stove, bring oil to 350 degrees Fahrenheit. Fry beignets until puffed and golden brown. Drain on paper towels and sprinkle with powdered sugar.
Other Recipes That You Might Like