Mardi Gras King Cake
Celebrate With This Classic New Orleans Cake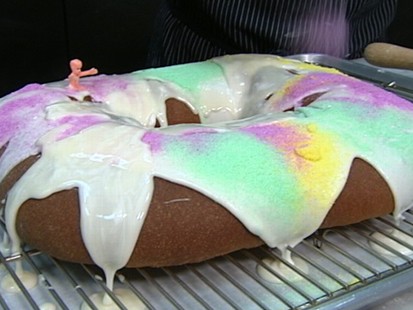 Chef David Guas gives us a baker's secrets to a holiday tradition.
From the kitchen of David Guas
Celebrate Mardi Gras no matter where you are with this traditional New Orleans-style King cake.
Ingredients
2 ounces fresh compressed yeast
1 Cup warm milk (105-115 degrees Fahrenheit)
.25 Cup honey
8 ounces bread flour
4 teaspoons salt
4 ounces granulated sugar
1 teaspoon ground cinnamon
2 teaspoons vanilla extract
1 teaspoon almond extract
8 each eggs
1 pound cake flour
1.25 pounds bread flour
8 ounces soft unsalted butter
4 each baby figurine (to hide in each cake)
Egg Wash
1 each large egg
1Tablespoon milk
Icing
1/2 Cup egg whites
1 1/2 pounds powdered sugar, sifted
1/4 Cup light corn syrup
2 Tablespoons warm water
1/2 teaspoon vanilla extract
Decoration
6 Cups granulated sugar (divided into 3 2-Cup portions)
liquid food coloring (green, gold/yellow, and purple or red and blue)
Cooking Directions
Dissolve the yeast in the warm milk in the bowl of a mixer. With mixer on low speed, add the honey and 8 ounces bread flour. Mix until soft and smooth. Cover and let rise until it has doubled in volume.
When above has doubled in volume, add the salt, granulated sugar, cinnamon, vanilla and almond extracts, and 8 eggs. Mix in the cake flour and all but a handful of the remaining bread flour. Gradually mix in the butter, adding it in small pieces.
Knead with the dough hook until the dough forms a ball. The dough should not stick to the sides of the bowl and should have a slightly shiny appearance. Adjust the consistency by adding the reserved bread flour if needed.
Place the dough in a greased bowl. Cover with a damp cloth and leave in a warm, dry place for about an hour, during which the dough should double in size. If you are not going to shape the dough within a few hours after it has risen, freeze it to prevent souring.
Turn the dough out onto a floured cutting board. Punch down the dough and divide into four equal pieces. Set three pieces aside.
Take one segment and, on the floured cutting board, roll into an oblong shape, rolling the dough as thin as possible and maximizing the length. Take the wide side of the dough and roll into a long, tight roll, similar in look to a baguette. When the dough is rolled, crimp the edge to the rest of the dough.
Lay the dough down on the floured board. Holding one end, roll the dough with your hands to elongate the dough into a thin rope of consistent diameter (approximately 1 to 1.5 inches). Pull the two ends of the dough together to form a circle or oval, tucking the ends into one another.
Put dough onto sheet pan lined with greased parchment paper. Cover with a damp cloth and leave in a warm, dry place for about an hour. Repeat for each of the other segments of dough.
Variation: You can also make a braided cake with the remaining three segments of dough. For each of the three segments, repeat the steps above, making an oblong shape, rolling the dough tight, and then elongating the dough into a thin rope (diameter approximately 1 inch). Take each of the three segments and pinch together at one end. Hold the pinched end in one hand and braid the three segments, repeating until done. When all of the dough has been braided, join together the two ends to form a circle. Put dough onto sheet pan lined with greased parchment paper. Cover with a damp cloth and leave in a warm, dry place for about an hour.
Preheat the oven to 375 degrees Fahrenheit.
In a small bowl, whisk together the egg and milk for the egg wash. Uncover the dough and brush the tops and sides of the formed dough with egg wash. Bake in 375-degree oven until brown and cooked through, about 25 to 35 minutes.
When each cake comes out of the oven, immediately make a small slit with a paring knife and insert a baby figurine. Cool thoroughly on racks, at least one hour.
While cakes are cooling, make icing. Add .5 cup egg whites and sifted powdered sugar into electric mixer with paddle attachment. Mix on low speed. Once the sugar has been absorbed completely, add corn syrup, water, and vanilla extract. Continue mixing until smooth. Remove from mixer and cover the bowl with a damp cloth until you are ready to glaze the cakes.
To make colored sugars to decorate the cakes, place 2 cups of granulated sugar into each of 3 plastic bags with zipper tops. Into one bag, put four drops of green food coloring, put four drops of gold or yellow into another bag, and four drops of purple food coloring into the last bag. (If you don't have purple food coloring, put 2 drops of red food coloring and 2 drops of blue food coloring onto a spoon and mix with a swizzle stick or straw. Put into the last bag.) Close each bag securely and shake to mix in the food coloring.
Drizzle icing on the cooled cakes. Cover with colored sugar, alternating in 2.5 inch sections with purple, then green, and then fold, repeating until the cake is covered.
Recipe Summary
Main Ingredients: yeast, warm milk, honey, bread flour, salt, granulated sugar, cinnamon, vanilla, almond, eggs, cake flour, unsalted butter, baby, egg whites, light corn syrup
Course: Dessert