Coffee Cup Scramble
Breakfast in a Cup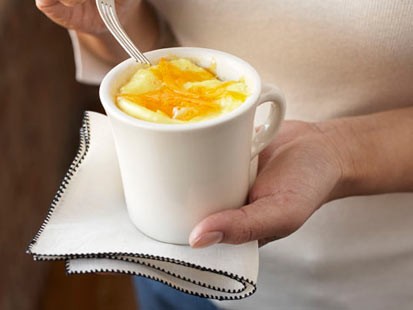 From the kitchen of American Egg Board
|
Do you love eggs but are looking for a new way to prepare them? Try this easy recipe.
Ingredients
2 eggs
2 Tbsp. milk
2 Tbsp. shredded Cheddar cheese
Salt and pepper
Cooking Directions
Coat 12-oz. microwave-safe coffee mug with cooking spray. Add eggs and milk; beat until blended.
Microwave on hight 45 seconds; stir. MICROWAVE until eggs are almost set, 30 to 45 seconds longer.
Top with cheese; season with salt and pepper.
Nutrition information per serving: 215 calories; 15 g total fat; 6 g saturated fat; 2 g polyunsaturated fat; 5 g monounsaturated fat; 389 mg cholesterol; 244 mg sodium; 2 g carbohydrate; 0 g dietary fiber; 17 g protein; 739.5 IU Vitamin A; 100.3 IU Vitamin D; 51.1 mcg folate; 194.4 mg calcium; 1.9 mg iron; 258.4 mg choline.
This recipe is an excellent source of protein, vitamin D, choline, and a good source vitamin A, folate, calcium, and iron.
Additional Notes:
-Microwave ovens vary. Cooking times may need to be adjusted.
Other Recipes That You Might Like