Crepes
Fun Food for the Whole Family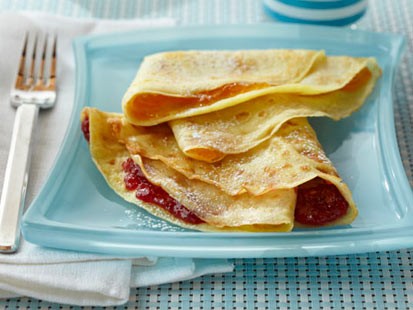 From the kitchen of Jeffrey Saad
|
This recipe is extremely versatile. Try it with breakfast meat, eggs, fruit or even chocolate for dessert.
Ingredients
1 cup milk
1/2 cup water
2 eggs
1 egg yolk
1 Tbsp. sugar
1/4 tsp. salt
1 cup all-purpose flour
1/4 cup (1/2 stick) butter, melted
Melted butter for brushing pan
Cooking Directions
Whisk milk, water, eggs, egg yolk, sugar and salt in medium bowl just until combined. Whisk in flour until smooth. Gently Whisk in 1/4 cup melted butter.
Brush 10-inch nonstick skillet lightly with melted butter; heat over medium-high heat until hot. Lift skillet from heat and quickly pour IN 1/3 cup crêpe batter, tilting and swirling pan to cover bottom evenly. Return pan to heat. Cook until bottom is light brown, about 60 seconds.
Carefully turn crêpe over in pan. Cook second side until light brown, about 30 seconds. Repeat to cook remaining batter, stacking crêpes on a plate with a piece of waxed paper between them.
Nutrition information per serving (1/6 of recipe) :205 calories; 11 g total fat; 6 g saturated fat; 1 g polyunsaturated fat; 3 g monounsaturated fat; 129 mg cholesterol; 141 mg sodium; 20 g carbohydrate; 1 g dietary fiber; 6 g protein; 435.5 IU Vitamin A; 26.4 IU Vitamin D; 52.4 mcg folate; 66.1 mg calcium; 1.4 mg iron; 71.8 mg choline.
This recipe is a good source of protein, Vitamin A, folate and choline.
Additional Notes:
• Blender method: Combine crêpe ingredients in blender container. Process 1 minute. Stop blender; scrape down sides of container. Process until smooth, about 30 seconds.
• Make ahead: Crêpe batter can be made ahead. Refrigerate, covered, 2 hours or as long as overnight. Stir batter before using.
• Storing cooked crêpes: Stack crêpes with waxed paper between them; refrigerate, covered, overnight. Or wrap stacked crêpes airtight; freeze up to 1 month. Defrost frozen crêpes in the refrigerator.
• Browned butter variation: To add a special nutty flavor to your crêpes, brown the butter first. Heat 1/4 cup butter in 10-inch nonstick skillet over medium heat until it melts and begins to foam. When foam subsides and butter turns golden brown, remove from heat. Watch carefully; butter can go from golden to burned very quickly. Let cool slightly before making batter.
Other Recipes That You Might Like