Da Bag
Seafood Stuffed Bag of Goodness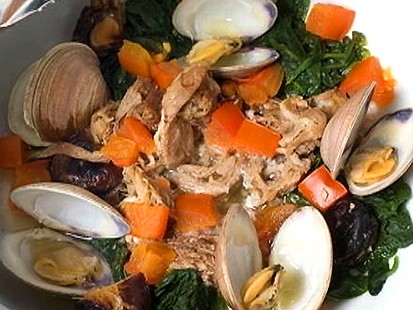 Famous Hawaii Chef Alan Wong bakes fresh seafood in one easy bag.
From the kitchen of Alan Wong
Ingredients
1 Tbsp butter
2 tsp minced garlic
½ cup quartered shiitake mushrooms
2 cups firmly packed spinach
20 Manila clams, washed
2 cups Kalua Pig*
¼ cup finely diced tomatoes
1 cup Chicken Stock*
Cooking Directions
Preheat the oven to 350 degrees.
Cut 4 strips of 18-inch-wide heavy-duty gauge aluminum foil 40 inches long (or use 2 overlapping strips of 12-inch-wide foil). Form foil bags, with one end left open, by folding each strip of foil in half lengthwise and seal the sides by folding the edges over together 3 or 4 times.
In a sauté pan over medium-high heat, melt the butter. Add the garlic and sauté for 2 minutes, stirring occasionally. Add the mushrooms and sauté for 2 minutes longer.
In a saucepan of boiling salted water, blanch the spinach for 30 seconds. Transfer the spinach to an ice bath to cool. Drain and gently squeeze out any excess moisture.
Divide the clams, Kalua Pig, mushrooms, spinach, and tomatoes among 4 large ovenproof soup bowls (preferably 10 inches in diameter). Pour ¼ cup of the stock into each bowl. Slide the bowls inside the foil bags.
Pour 1 cup of warm water inside the bottom of each bag before sealing the open end. Carefully place the bags on a baking sheet. Bake for 15 minutes; steam created by the water inside the bag will puff up the foil and cook the ingredients inside.
If possible, cook 2 bags at once and then repeat for the remaining 2 bag; reheat the bags cooked first just before serving. If the bags do not puff up, check for holes or leaks.
To serve, place the bags on individual plates. Cut open at the table. Be careful as hot steam will rise from the bag. Diners should discard clams that did not open during cooking.
Recipe Summary
Main Ingredients: kalua pig, seaweed, clams, shrimp, chicken broth, corn, butter
Course: Side Dish, Appetizer/Starter
More Info: Kid Friendly