Grilled Scallions with Almond Pesto
Treat Yourself to This Fun Vegetable Dish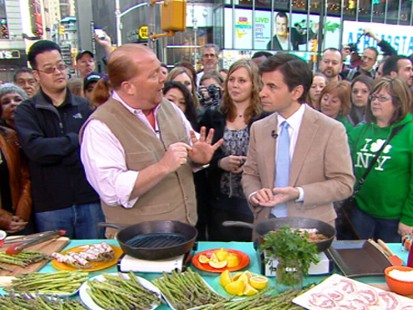 Mario cooks variations of classic meals that won't leave you tipping the scales.
From the kitchen of Mario Batali
Are you looking for a new way to use vegetables? Scallions are perfectly in season right now. Scoop up a bunch at your local market and give this recipe a try tonight. Your taste buds will thank you.
Ingredients
For the scallions:
4 bunches scallions, trimmed
Extra-virgin olive oil, for drizzling
1/2 lemon, juiced
2 lemons, cut into quarters for serving
Coarse sea salt, to taste
For the almond pesto:
1/4 cup raw almonds with skins
1 bunch parsley, leaves only
4 sprigs thyme, preferably lemon thyme, chopped stems and all
1/2 cup extra-virgin olive oil
1/2 cup freshly grated Parmigiano Reggiano
Cooking Directions
Cut root end off scallions, drizzle with olive oil and place on hot grill with a little salt for about three minutes.
In a food processor, combine almonds, parsley, fresh thyme and pulse until finely ground. Add the olive oil with the motor running. Blend the mixture until it's thinner than pesto but thicker than a vinaigrette. Transfer the mixture to a bowl and stir in grated Parmigiano cheese.
Flip the scallions on the grill, season them with freshly ground pepper and cook the second side for approximately 3 minutes. Scallions should be lightly charred and cooked through. Squeeze the juice of half a lemon over the scallions just before removing from the grill.
Serve the scallions and season with salt again. Add lemon wedges. Spoon the almond pesto over the scallions. Finish with a few almonds, a touch of grated Parmigiano Reggiano, and a drizzle of extra-virgin olive oil.
This recipe was styled by chef Karen Pickus for Good Morning America.
CLICK HERE to check out the mouth-watering "Mario Batali Cooks!" iPhone application.
Recipe Summary
Main Ingredients: scallions, olive oil, lemon, sea salt, almonds, parsley, thyme, parmigiano reggiano
Course: Vegetable, Snack, Side Dish, Party Platter, Dinner
More Info: Kid Friendly