Rocco DiSpirito's Scrambled Eggs With Smoked Salmon On Toast
Try This Ultra Savory, Healthy Breakfast Option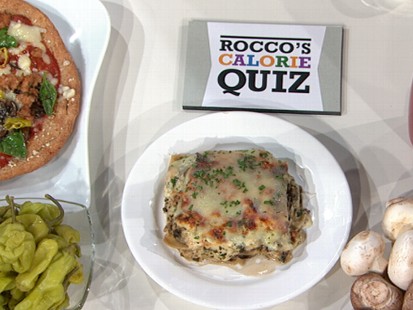 The chef's new diet will keep taste buds happy while keeping meals healthy.
From the kitchen of Rocco DiSpirito
"If I wake up to a loud noise, it's either my dog snoring or my stomach growling. Maybe both. But if it's the latter, I've got to eat something fast. This ultra savory breakfast does the trick. You can whip it up in just 5 minutes. Few ingredients are as luxurious as smoked salmon, rich decadent and relative calorie bargain for the flavor benefits. Olives pose a triple threat to bad health: they are rich in Vitamin E a fat- soluble antioxidant that neutralizes damaging free radicals, and full of polyphenols and flavonoids, which have anti-inflammatory properties. Sorry—no canned pitted olives here. It just wouldn't be the same."
-- Rocco DiSpirito
Ingredients
2 garlic cloves
Nonstick cooking spray
2 cups liquid egg substitutes
Freshly ground black pepper
8 kalamata olives, roughly chopped
1 tablespoon chopped fresh flat-leaf parsley
2 tablespoons chopped chives
3 ounces sliced smoked salmon
4 ounces whole wheat baguette
¼ cup reduced-fat sour cream, such as Breakstone's
Cooking Directions
Mince one of the garlic cloves and set aside.
Heat large nonstick sauté pan over medium heat. When hot, remove it from the stove just while you coat it with cooking spray. Add the minced garlic and cook till lightly brown, about 1 minute.
In a small bowl, add the egg substitute. Season with pepper to taste. Pour the egg mixture into the pan. Using a heatproof rubber spatula, stir the eggs occasionally until large curds form. When the eggs are still wet, fold in the olives, parsley, chives, and salmon. Season with pepper.
Cut the baguette into slices and toast in the toaster oven. Rub the toasted pieces with the remaining clove of garlic.
Serve the eggs with a dollop of sour cream and the garlic bread.
Per Serving:
214 calories
5g of fat (2g sat/ 1.7g mono/ 0.5 poly)
10 mg cholesterol
796mg sodium
19 g carbohydrates
3g fiber
22g protein
Recipes from "NOW EAT THIS! DIET" by Rocco DiSpirito. Copyright © 2011 by Flavorworks. Used by permission of Grand Central Publishing, Inc. All rights reserved.
This recipe was styled by chef Karen Pickus for Good Morning America.
Recipe Summary
Main Ingredients: egg, liquid egg substitutes, salmon, olives, chives, baguette, sour cream
Course: Breakfast, Brunch
More Info: Low Fat, Heart Healthy