Aunt Didi's Carne Guisada
Fill Up on This Tasty Dish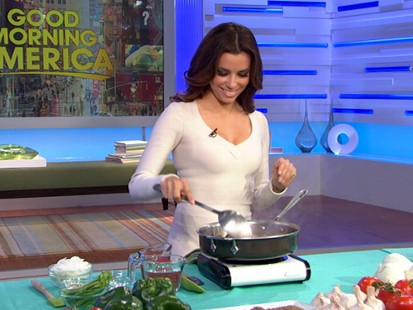 "Eva's Kitchen" is a new cookbook released by the "Desperate Housewives" star.
From the kitchen of Eva Longoria
|
This classic Tex-Mex stew is rich and delicious without the hours of simmering that most stews require. I cannot imagine ever eating this without Aunt Edna's Homemade Flour Tortillas to soak up every last drop of flavorful sauce.
Ingredients
1 tablespoon olive oil
2 pounds beef sirloin, cut into 1-inch cubes
1 medium white onion, sliced
4 garlic cloves, minced
½ green bell pepper, sliced
2 tablespoons ground cumin
1 teaspoon kosher salt
1 teaspoon ground black pepper
1 8-ounce can tomato sauce
Mexican Rice, for serving
Refried Beans, for serving
Aunt Edna's Homemade Flour Tortillas, warm for serving
Cooking Directions
In a large skillet, heat the oil over medium heat. Add the meat and cook, stirring occasionally, until the meat is browned in spots but still a little red in the middle, about 5 minutes.
Add the onion, garlic, and bell pepper and stir to combine. Add the cumin, salt, and pepper and stir to combine. Stir in the tomato sauce and 1 cup of water. Bring to a boil. Reduce the heat to low and simmer for 5 minutes. Serve with Mexican rice, refried beans, and warm tortillas.
FROM AUNT ELSA'S KITCHEN
For a thicker gravy, after cooking use a slotted spoon to transfer the meat and vegetables to a serving bowl. Combine 1 tablespoon all-purpose flour with ¼ cup water and stir until smooth. Whisk this slurry into the gravy and simmer for 1 to 2 minutes until thickened. Pour the gravy over the meat and serve.
This recipe was styled by chef Karen Pickus for Good Morning America.
Click here to check out Eva's cookbook.
Other Recipes That You Might Like