Jamie Oliver's Cajun Blackened Fish Steaks
Spice Up Your Dinner Routine With This Great Recipe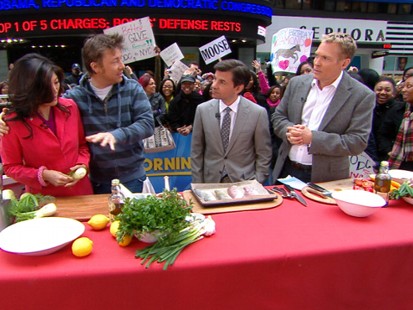 Host of "Jamie Oliver's Food Revolution" prepares fish steaks and fennel salad.
From the kitchen of Jamie Oliver
This is my version of a classic Southern dish, but just a word of warning: it is seriously spicy! The way I heard it, this brilliant rub was invented by an African-American chef working at Commander's Palace, a posh New Orleans restaurant. The famous head chef there, Paul Prudhomme, took this recipe, added his own little tweaks and introduced blackened fish to the rest of the world. Basically it's a bold rub that fragrantly flavors fish and meat and goes dark when it cooks, thanks to the paprika and garlic. Traditionally this dish has been made with the locally caught redfish, but it's also great with any whole or filleted white fish. It goes with so many things, including chicken, pork, lamb and steak. When I was in Louisiana I cooked it on a barbecue, but I've shown you below how to do it indoors in a pan. Don't be scared by how black the spices go: they'll look burnt but the taste will be amazing.
Ingredients
4 x 1/2-lb white fish fillets, such as seabass, snapper, bream or pollock (approx. 2cm thick), skin on, scaled and pinboned
1 lemon
For the rub:
10 sprigs of fresh thyme, leaves picked
4 sprigs of fresh oregano, leaves picked
2 cloves of garlic, peeled
2 level teaspoons smoked paprika
1 teaspoon cayenne pepper
1 teaspoon sea salt
1 level tablespoon finely ground black pepper
2 tablespoons olive oil
1 lemon
Cooking Directions
To make the rub, bash up your fresh herbs and garlic in a pestle and mortar until you've got a nice coarse paste. Mix in the spices, salt, pepper and olive oil, then squeeze in the juice of half the lemon, making sure not to let any pips get in there, and stir well.
Lightly score the skin of your fish in lines about 3/4-inch apart. Using your fingers, smear the rub all over both sides of the fish and into the cuts you've made. Put a non-stick pan or grill pan over a medium-high heat and let it get nice and hot. Place your fish in the pan, skin side down, and let it cook for 3 to 4 minutes. It will get quite smoky, so you might want to open a window! Turn the heat down to low, then, very carefully, flip your fish over and cook for another 3 to 4 minutes on the second side. Cut your remaining lemon half and your second lemon into wedges for squeezing over. Serve them with your fish, a nice salad and boiled or steamed new potatoes dressed in good olive oil or butter. Don't forget a nice cold glass of wine!
This recipe was styled by chef Karen Pickus for Good Morning America.
**Recipe courtesy of Jamie Oliver from his cookbook Jamie's America; Hyperion, 2010.
Recipe Summary
Main Ingredients: fresh thyme, fresh oregano, garlic, paprika, cayenne pepper, black pepper, olive oil, lemon
Course: Dinner, Lunch