Spiced Apple Crumb Muffins
A Spiced Healthy Treat With a Delicious Crumb Topping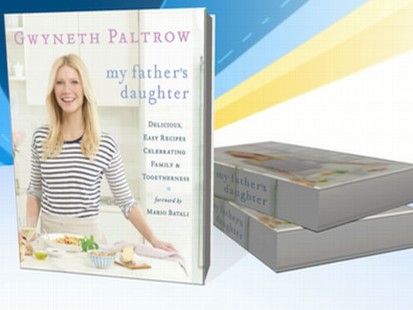 With her singing career on the rise, actress writes book inspired by father.
From the kitchen of Gwyneth Paltrow
These next two muffin recipes are based on my friend Darlene's healthy recipes. D, as I call her, is a master at baking with alternative ingredients. The spelt flour has more nutritional value than regular wheat flour and it is easier to digest to boot. These are macrobiotic and super healthy, and my kids, as well as all visitors, gobble them up.
Ingredients
For the crumb topping:
1/4 cup white spelt flour
1/4 cup whole spelt flour
1/4 cup rolled oats (not instant and not steel-cut)
1/4 cup unrefined dark brown sugar
2 teaspoons ground cinnamon.
pinch sea salt
2 tablespoons vegetable oil
1 tablespoons soy milk
For the muffin:
1 tablespoon cornstarch
1 cup finely diced peeled apple (about 2 small apples)
1/2 cup vegetable oil, plus 2 tablespoons for greasing pan
1/2 cup plus 2 tablespoons real Vermont maple syrup
1/2 cup plus 2 tablespoons soy milk
1 cup white spelt flour
1 cup whole spelt flour
2 1/4 teaspoons baking powder
1/2 teaspoons baking soda
1/4 teaspoons fine salt
2 teaspoons ground cinnamon
1/2 teaspoon ground allspice
1/2 cup lightly toasted walnuts, roughly chopped.
Cooking Directions
Preheat the oven to 350 degrees Fahrenheit. Line a 12-cup muffin tin with papers or oil it with two tablespoons of the vegetable oil.
For the crumb topping, combine all the dry ingredients in a small bowl. Add the vegetable oil and soy milk and rub everything together with your fingers—the mixture should be pebbly. Set the mixture aside.
For the muffins, in a small bowl, toss the cornstarch with the apples. In another large bowl whisk together ½ cup of the vegetable oil and all the syrup and soy milk. Sift in the remaining ingredients (except for the walnuts) and fold in the apples and walnuts, Evenly distribute the batter in the muffin cups and bake for 25-30 minutes, or until a toothpick tests clean.
This recipe was styled by chef Karen Pickus for Good Morning America.
*Recipe from Gwyneth Paltrow's My Father's Daughter; Grand Central Life & Style, 2010.
Recipe Summary
Main Ingredients: spelt flour, apples, soy milk, allspice, cinnamon, walnuts, maple syrup
Course: Snack