Emeril's Broccoli, Cheese and Ham Healthy Breakfast Casserole
Fill Up on This Heathy and Fresh Breakfast Casserole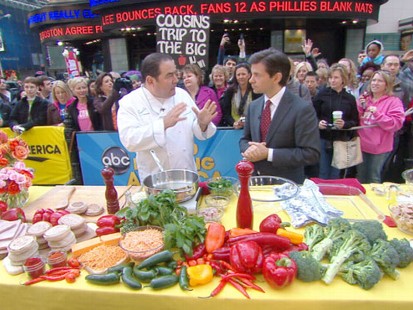 Emeril Lagasse serves up delicious breakfast dishes for deserving moms.
From the kitchen of Emeril Lagasse
Are you tired of making eggs the same way all the time? Try Emeril's casserole. It's the perfect combination of meat, cheese and eggs without all the calories of a normal omelette.
Ingredients
4 cups coarsely chopped broccoli florets (about 1 head, 18 oz)
1 tablespoon olive oil
2 teaspoons kosher salt, plus more for seasoning
1 cup finely chopped onion
1 cup small diced ham (5 oz)
2 1/2 ounces shredded extra-sharp cheddar cheese
4 cups 1-inch diced whole wheat English muffins
4 large eggs
6 egg whites
1 1/2 cups skim milk
2 teaspoons salt
1 teaspoon sweet paprika
1/4 teaspoon cayenne pepper
2 ounces finely grated Parmesan cheese
Cooking Directions
Blanch the broccoli florets in a pot of boiling salted water until bright green and slightly tender, about 1 minute. Transfer to an ice-bath and let cool. Drain well and set aside.
Heat the olive oil in a small saute pan over medium-high heat, add the onions and a couple of pinches of salt. Cook, stirring occasionally, until soft, about 4 minutes. Remove from the heat and set aside to cool.
In a large mixing bowl, add the broccoli, cooled onions, ham, cheddar cheese and English muffins. Gently toss together to combine and pour into a 11.5 x 8-inch glass baking dish; spread the mixture out evenly.
Using the same bowl, add the eggs, egg whites, milk, salt, paprika and black pepper. Whisk to mix well and pour over the broccoli mixture. Cover with foil and store in the refrigerator overnight, up to 8 hours.
Preheat the oven to 375 degrees F. Place the casserole in the oven and bake for 45 minutes. Remove the foil and sprinkle the Parmesan cheese evenly over the top. Return to the oven and continue cooking until golden brown, puffed, and cooked through, about 30 minutes more.
Place on a cooling rack and let rest for 10 to 15 minutes before serving.
This recipe was styled by chef Karen Pickus for Good Morning America.
Recipe courtesy Emeril Lagasse, copyright MSLO, Inc., all rights reserved
Recipe Summary
Main Ingredients: broccoli, olive oil, onion, ham, cheddar, english muffin, eggs, milk
Course: Brunch, Breakfast
More Info: Kid Friendly, Low Calorie