Mario Batali's Agnolotti Alla Primavera
A Deliciously Cheesy Dish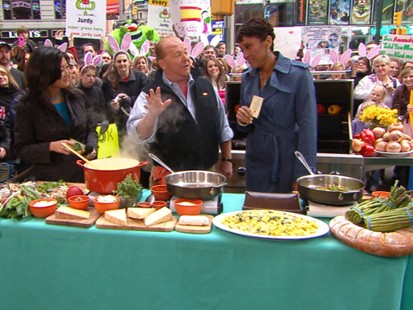 Master chef prepares Agnoloti alla Primavera, lamb, pastiera and asparagus.
From the kitchen of Mario Batali
This is a versitile dish and Mario Batali claims if you do not want to make agnolotti from scratch, you may substitute 1 pound of prepared stuffed pasta from your favorite high-quality purveyor, such as Eataly.
Ingredients
10 tablespoons unsalted butter
1 medium Spanish onion, cut into 1/8-inch dice
3/4 cup ricotta cheese
3/4 cup grated Fontina cheese
9 tablespoons fresh goat cheese
3 tablespoons fresh marjoram leaves
3/4 cup finely chopped Italian parsley
3/4 cup teaspoon freshly grated nutmeg
Salt and pepper
1 recipe basic pasta dough, rolled to thinnest setting on pasta machine
6 quarts low-sodium chicken broth, homemade preferred
1 bunch fresh ramps, trimmed and chopped into 1/2-inch pieces
1/4 cup freshly grated Parmigiano-reggiano cheese
Cooking Directions
Bring 6 quarts of chicken broth to a boil and add about 2 tablespoons salt.
In a 12- to 14-inch saute pan, heat 4 tablespoons of the butter over medium heat until the forma subsides. Add the onion and cook until soft and golden brown, 7 to 8 minutes. Remove the pan from the heat and cool. Stir in the cheeses, marjoram, parsley, and nutmeg, and season with salt and pepper.
To form the agnolotti, drop heaping teaspoons of filling down one side of each pasta sheet at 3-inch intervals. Fold the pasta over the filling, pressing the dough flat between the lumps of filling. Using a pastry cutter, cut half-moons using the fold as the flat side of the moon.
Drop the agnolotti into the boiling chicken broth and simmer rapidly until tender.
Meanwhile, melt the remaining 6 tablespoons butter with the ramps in a 12- to 14-inch saute pan and cook 2 minutes until softened. Drain agnolotti and add to the pan. Sprinkle with Parmigiano-Reggiano and toss over medium heat to coat.
Serve immediately.
This recipe was styled by chef Karen Pickus for Good Morning America.
*Recipe courtesy of Mario Batali
Recipe Summary
Main Ingredients: ricotta, fontina, goat cheese, onion, parsley, nutmeg
Course: Party Platter, Main Course, Dinner