Mario Batali's Butterflied Leg of Lamb with Garlic, Rosemary and Mint
Try This Lamb for Your Easter Dinner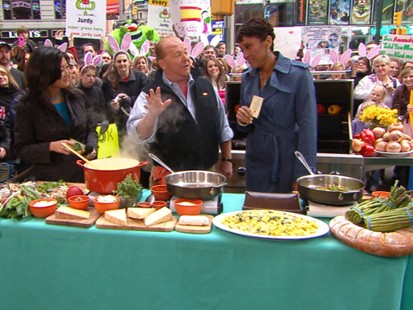 Master chef prepares Agnoloti alla Primavera, lamb, pastiera and asparagus.
From the kitchen of Mario Batali
The vin santo in the marinade helps the meat develop a tasty char on the outside, like a steak. Cook it medium-rare, or even medium; unlike a butterflied beef tenderloin, for example, a butterflied leg of lamb always has some thicker and some thinner parts, which is actually a good thing—it means that when the meat is cooked, there will be something for everyone, some medium-rare, some medium, some a bit more done.
Ingredients
½ cup olive oil
½ cup vin santo
¼ cup chopped fresh mint
18 garlic cloves, peeled and bashed a bit with the side of a heavy knife
2 tablespoons kosher salt
1 tablespoon freshly ground black pepper
One 4½- to 5-pound boneless leg of lamb, butterflied and trimmed of excess fat (or one 7- to 8 pound bone-in leg, boned, butterflied, and trimmed)
2 tablespoons fresh rosemary leaves
Cooking Directions
Combine the olive oil, vin santo, mint, 6 of the garlic cloves, the salt, and pepper in a small bowl. Set aside.
Make 12 small incisions in the fatty side of the lamb and insert one of the remaining bashed garlic cloves and some of the rosemary into each slit. Put the lamb in a large baking dish and pour the marinade over, turning to coat. Let stand at cool room temperature for 1 hour, or cover and refrigerate for at least 12 hours, or overnight; turn the lamb occasionally as it marinates.
If the lamb has been in the refrigerator, bring it to room temperature. Preheat a gas grill or prepare a fire in a charcoal grill.
Remove the lamb from the marinade, draining it well, and pat dry. Pour the marinade into a small bowl. Place the lamb on the grill and cook, basting several times with the reserved marinade, for 10 to 12 minutes, until well charred on the first side. Turn and cook, basting several more times, for 10 to 12 minutes longer, or until well charred on the second side; the internal temperature should register 130°F for medium-rare. Transfer the lamb to a carving board and let it rest for 15 minutes.
Carve the lamb into ¼-inch-thick slices and serve immediately
This recipe was styled by chef Karen Pickus for Good Morning America.
*Recipe courtesy of Mario Batali
Recipe Summary
Main Ingredients: olive oil, leg of lamb, garlic clvoes, fresh mint
Course: Dinner