Mushroom, Spinach Crepe with Gruyere Cheese
Fresh Ingredients Folded into a Brunchtime Favorite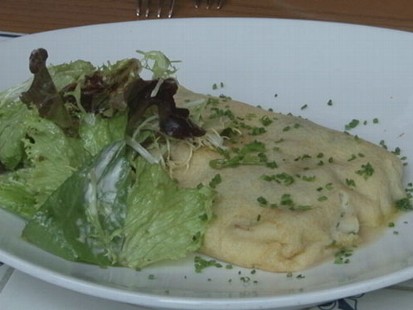 Epicurious and Brasserie Beck's Robert Wiedmaier chat and chew.
From the kitchen of Robert Wiedmaier
Ingredients
Crepe
Ingredients
6 oz. Whole Milk
¼ C All Purpose Flour
1 each Egg
1 TBS Unsalted Butter, melted
Pinch Salt
Pinch Sugar
Mushroom and Spinach with Gruyere Filling
Ingredients
¼ C Unsalted Butter, softened
¼ C All Purpose Flour
1 C Whole Milk or Heavy Cream
¼ C Gruyere cheese, grated
1 TBS Gruyere cheese, grated for garnish
To Taste Salt
To Taste Pepper
½ C Mixed mushrooms, washed and chopped
1 TBS Olive oil
Handful Spinach, washed
Cooking Directions
Procedure
Pour the flour and egg into a large bowl and whisk together. Slowly add the milk and butter and continue whisking until smooth. Add the salt sugar into the mix, whisk until blended, and set aside.
Mushroom and Spinach with Gruyere Filling
Procedure
Add the olive oil into a small pan and heat the pan to medium-high. Add the mushrooms and sauté until softened, approximately 3-5 minutes. Place the mushrooms onto a paper towel to pat dry, and cool. Set aside.
Fill a pot with water and bring to a boil. Add the washed spinach to the boiling water and let it cook for 30 seconds. Remove the spinach from water, which can best be done with a slotted spoon or colander. Run ice-cold water over the cooked spinach to stop any additional cooking. Once cooled, place the spinach on a paper towel and press and squeeze to remove all excess water. Set aside.
Pour the room temperature butter and flour together in a large bowl and knead together until they form a paste-like base. Slowly add the milk/heavy cream to the paste, constantly whisking, until all of the ingredients have been evenly combined (for a thicker base, stop whisking once blended). Add the Gruyere to the mix, leaving just a small amount to top the dish later. Whisk until blended, then set aside.
Once the mushrooms and spinach have cooled and the excess moisture drained onto the paper towels, fold them into your base until all of the ingredients for the filling are mixed together.
Assembly
Heat a crêpe pan, or other small griddle, on medium-high heat. Pour about a quarter cup of the crêpe batter into the pan. Quickly, swirl the batter around the pan to ensure that it is evenly distributed and coats the entire bottom of the pan. Let the batter cook until it has puffed slightly and has turned a golden color, about 2 minutes.
Pour the filling onto half of the cooked crêpe and let it warm for about 45 seconds to a minute. Fold the uncovered edge of the crêpe onto the side topped with the filling, sprinkle with the remaining Gruyere cheese, and once the garnish of cheese organically begins melting is when the dish should be served.
Recipe Summary
Main Ingredients: mushrooms, spinach, gruyere cheese, eggs, flour
Course: Appetizer/Starter, Casserole, Lunch, Dinner
More Info: Kid Friendly