Stephanie O'Dea's Shepherd's Pie
Slow-cook your way to a perfect English dish.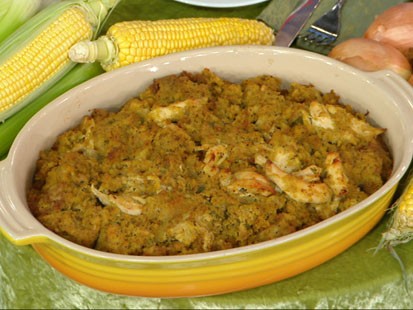 The slow-cooker challenge champion prepares her winning recipe.
From the kitchen of Stephanie O'Dea
The girls and I have Royal Wedding Fever. We've been watching show after show profiling the Middletons and know all about how William and Kate met and the kids are finding the castles shown on TV on Google Earth (I know. We do have a wall map, but Google Earth is so much more cool).
I learned last night through a segment on TLC that along with the traditional wedding fare of champagne and cake, William has requested "English" food such as Shepherd's Pie. Guess what? You can totally make Shepherd's Pie, in your slow cooker. It's easy, and a lot less hassle than Haggis (which you can also make in your slow cooker!).
Ingredients
3 cups leftover mashed potatoes
1 pound ground turkey or beef, browned and drained
2 cloves garlic, chopped
2 cups frozen vegetables (I used roasted corn and peas)
1 medium onion, chopped finely, or 1 tablespoon onion flakes
1/2 teaaspoon seasoned salt
1/2 teaspoon onion powder
1/4 teaspoon black pepper
1/4 teaspoon paprika (then a bit more for garnish)
1 cup water
2 cups shredded cheese
Cooking Directions
The Directions
Use a 4-quart slow cooker. If you only own a large slow cooker, that's fine, but your dish will cook faster.
Brown the meat and onion on the stove, and drain any fat. Toss the meat with the spices and garlic. Spray the inside of your slow cooker insert with cooking spray. Put the meat in the pot and stir in the frozen vegetables, and a cup of water. Add two cups of cheese on top. Press the mashed potatoes down on top of the cheese and meat. Sprinkle with a bit of paprika.
Cover and cook on low for 6 hours or high for about 3, then remove the lid and cook on high for 30 minutes to release the condensation and allow the potatoes to brown a bit on top. Everything is cooked already, so you're really just allowing the flavors to meld and the potatoes to crustify.
The Verdict
This is a great way to use up leftover mashed potatoes. I like that I can use leaner ground turkey instead of beef, and can get away with only 1 pound for six people.
Stephanie O'Dea is a New York Times best-selling author of the Make it Fast, Cook it Slow cookbooks, blogger, slow-cookerer, and shortcut queen.
Recipe Summary
Main Ingredients: potato, beef, garlic, vegetables
Course: Main Course
More Info: Wheat/Gluten Free