Nick Watt's Mum's Chocolate Biscuit Cake
Give This Royal Favorite a Try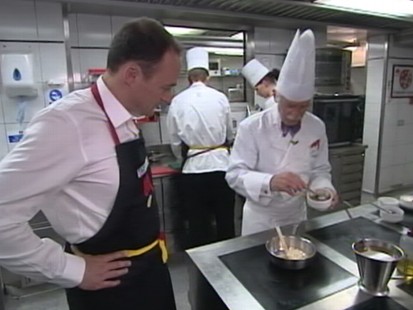 Anton Mosiman explains to Nick Watt efforts required to prepare a royal feast.
From the kitchen of Carol Watt
|
Prince William's childhood favorite treat is the same as ABC News' very own Nick Watt, but Nick has a secret weapon that even the Royal Family can't match: his mum Carol. She shares a generations-old Watt family recipe here.
Ingredients
8 oz. good-quality dark chocolate, chopped
8 oz. (1 stick) unsalted butter
2 large eggs
½ cup sugar
8 oz. Rich Tea biscuits or Graham Crackers, broken into almond-sized pieces
Zest of 1 orange
½ cup chopped hazelnuts, walnuts or almonds
¼ cup raisins, soaked in 2 tablespoons of sherry (omit if making for children)
Cooking Directions
1. Melt chocolate in a mixing bowl placed over a saucepan of gently simmering water. In another saucepan (or microwave-safe bowl) melt butter.
2. In a large mixing bowl, stir together the eggs and sugar until mixed well. Add melted butter and chocolate. Add orange zest, raisins, and nuts to the chocolate mixture. Gradually fold in the crushed biscuits (or graham crackers), until biscuits are evenly distributed throughout the chocolate.
3. In a 2-pound loaf pan lined with plastic wrap, spread the chocolate mixture and smooth out evenly. Cover entire pan with plastic wrap.
3. Refrigerate overnight. Cut into slices.
Cook's Note: This cake is quite rich—a small piece is all you need.
Other Recipes That You Might Like