Maya Angelou's California Green Chile and Cheese Pie
Give This Chile and Cheese Pie a Try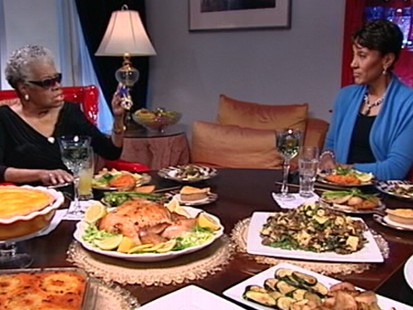 Angelou's latest book is full of her own healthy recipes.
From the kitchen of Maya Angelou
|
Are you looking for something different for dinner tonight? Give this pie a try.
Ingredients
1 frozen single piecrust
( store- bought)
1½ cups (6 ounces) shredded
Monterey Jack cheese
1 cup (4 ounces) shredded
mild cheddar cheese
One 4- ounce can diced green
chiles, drained
1 cup half- and- half or light
cream
3 large eggs
1/8 teaspoon ground cumin
(optional)
Cooking Directions
Preheat the oven to 350°F. Bake the pie crust just until pale
golden, about 12 minutes. Remove from the oven and let
cool slightly.
Reduce the oven temperature to 325°F.
Sprinkle the Jack cheese and ½ cup of the cheddar cheese
over the bottom of the partially baked crust.
Evenly distribute the chiles over the cheese.
In a bowl, beat together the half- and- half, eggs, and cumin,
if using, until blended. Pour over the chiles.
Sprinkle evenly with the remaining ½ cup cheddar cheese.
Bake on a sheet pan or cookie sheet for 40 minutes, or until
the center of the pie appears set when the pan is gently
shaken. Let stand for about 15 minutes before cutting.
Serve warm or at room temperature.
This recipe was styled by chef Karen Pickus for Good Morning America.
This recipes is courtesy Dr. Maya Angelou from her cookbook "Great Food All Day Long"
Other Recipes That You Might Like