Maya Angelou's Original Joe's Sausage, Eggs, and Greens
Try This Southern Dish Today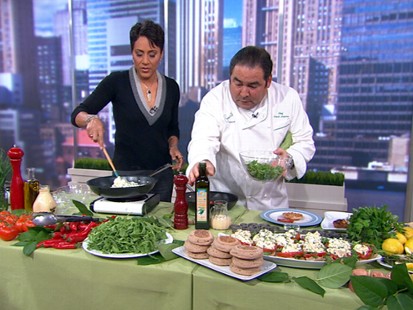 "GMA" will reward one lucky mom with breakfast in bed from Emeril Lagasse.
From the kitchen of Maya Angelou
This recipe is sure to be a hit. Try it this Mother's Day with your family.
Ingredients
2 pounds red or green Swiss
chard
2 tablespoons vegetable oil
1 pound mild Italian sausage,
casings removed
2 large onions, finely
chopped
2 garlic cloves, minced
½ pound mushrooms, sliced
¼ teaspoon ground nutmeg
¼ teaspoon pepper
¼ teaspoon dried oregano
2 cups beef stock
6 large eggs
Salt
1 cup (4 ounces) shredded
Monterey Jack cheese
Cooking Directions
Rinse the greens well. Cut the chard leaves into thin shreds;
thinly slice the stems. You should have about 5 cups, lightly
packed. Set the greens aside.
Place a wok or 12- to 14- inch skillet over high heat. Add
the oil.
Crumble the sausage into the pan, stirring frequently until
the meat is well browned, about 10 minutes.
Add the onions, garlic, mushrooms, nutmeg, pepper, and
oregano. Stir often, until the onions are soft.
Add the beef stock.
Stir in the greens, a portion at a time, until all the greens are
in the pan and just wilted, 10 minutes.
Beat the eggs lightly in a bowl. Add the eggs to the pan and
stir over low heat just until softly set.
Season to taste with salt.
Transfer to a warm serving dish and sprinkle with the
cheese.
This recipe was styled by chef Karen Pickus for Good Morning America.
This recipes is courtesy Dr. Maya Angelou from her cookbook "Great Food All Day Long"
Recipe Summary
Main Ingredients: swiss chard, vegetable oil, italian sausage, onion, garlic cloves
Course: Dinner
More Info: Kid Friendly