Stephanie O'Dea's Slow Cooker Black Beans with Cilantro
Prepare These For Your Next Pot Luck.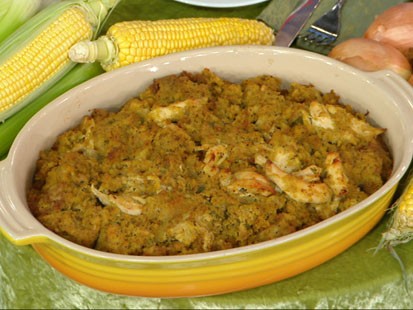 The slow-cooker challenge champion prepares her winning recipe.
From the kitchen of Stephanie O'Dea
It's potluck season, and there is no easier way to prepare food for a large group than to toss ingredients into a slow cooker and press a button. I really like to serve these beans for parties—guests are pleasantly surprised by the fresh punch of flavor the cilantro provides, and because beans are super-filling without being calorie-dense, partiers can go wild without an ounce of guilt.
Ingredients
1 pound black beans, sorted and soaked overnight
6 cups chicken broth
2 tablespoons dried cilantro
1 tablespoon garlic powder
1 cup chopped fresh cilantro (to add later)
Cooking Directions
The Directions
Use a 6-quart slow cooker. Sort the beans and soak them overnight in a bunch of water (beans should be fully covered by at least 2 inches of water). In the morning, drain the water, and place the soaked beans into an empty slow cooker. Add the broth, dried cilantro, and garlic powder. Stir to combine.
Cover your pot, and cook on low for 8 to 12 hours, or until the beans are bite-tender. If you live in a high altitude, you may need to cook them for a bit longer.
Toss the hot cooked beans with chopped cilantro before serving. If feeding a large group, provide rice, tortillas, chips, salsa, sour cream, and avocado slices to stretch your meal.
additional slow cooker recipes for potluck adventures:
baked beans with apple and jalapeno
salsa chicken and black bean soup
Stephanie O'Dea is a New York Times best-selling author of the Make it Fast, Cook it Slow cookbooks, blogger, slow-cookerer, and shortcut queen.
Recipe Summary
Main Ingredients: beans, chicken broth, cilantro