Emeril's Shrimp and Asparagus Risotto
Treat Yourself to This Risotto Tonight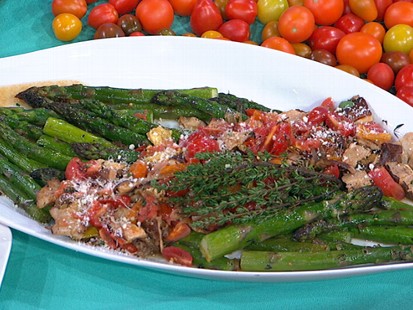 Shake up everyday vegetables with Emeril Lagasse's unique asparagus recipes.
From the kitchen of Emeril Lagasse
|
Emeril Lagasse has a knack for finding the best seasonal ingredients and finding ways to incorporate them into your daily dinner. This asparagus and shrimp risotto is no different. Give it a try tonight.
Ingredients
1 bunch medium asparagus, ends trimmed and cut on the diagonal into ½ inch pieces
1 1/2 pounds medium shrimp, peeled and deveined, shells reserved separately
2 teaspoons olive oil
1 onion, halved
1 carrot, coarsely chopped
1 celery stalk, coarsely chopped
1 clove garlic, smashed
1 bay leaf
1/4 teaspoon whole black peppercorns
8 cups water
Salt
1/4 cup extra-virgin olive oil, divided
1 1/2 teaspoons Emeril's Original Essence, or Creole Seasoning
4 tablespoons unsalted butter
1/4 cup minced shallots
1 tablespoon minced garlic
2 cups Arborio or Carnaroli rice
½ cup dry white wine
½ teaspoon plus a pinch freshly ground black pepper, divided
2 tablespoons chopped fresh mixed herbs such as chives, chervil, lemon thyme, parsley, basil
2 teaspoons finely grated lemon zest
1 cup finely grated Parmigiano Reggiano, divided
Cooking Directions
Prepare a bowl of ice water and set aside.
Blanch the asparagus in a large pot of boiling salted water for 1 1/2 minutes. Immediately remove from the boiling water and immerse in the ice water. Once completely cool, drain the asparagus and set it aside.
In a medium saucepan combine the shrimp shells and olive oil over medium-high heat and cook, stirring frequently, until the shells are toasted and fragrant, 3 to 4 minutes. Add the onion, carrot, celery, garlic, bay leaf, peppercorns, and 8 cups of water and bring to a boil. Reduce heat to a simmer and cook, skimming top of any foam, for 30 minutes. Strain through a fine mesh sieve and discard solids. You should have about 6 cups. Return stock to a clean saucepan and season to taste with salt. Keep warm.
Heat 2 tablespoons of the extra virgin olive oil in a 4 quart saucepan until very hot. In a small bowl combine the shrimp with the Essence and 1/4 teaspoon salt and toss to thoroughly distribute seasoning. Add two tablespoons of butter to the pan and, when the butter begins to foam, add the shrimp and cook until lightly golden on both sides, 1 to 2 minutes. Transfer shrimp and any accumulated juices to a heatproof bowl and set aside.
Add the remaining 2 tablespoons of the butter and 2 tablespoons of the extra-virgin olive oil to the same pan. Once the butter is bubbling, add the shallots and garlic and cook, stirring, until fragrant, about 1 minute. Add the rice and cook, stirring frequently, until fragrant and opaque, about 2 minutes. Add the wine and cook until it evaporates. Reduce the heat to medium and add 2 cups of the hot shrimp stock and season with 1 teaspoon salt and ¼ teaspoon pepper. Cook, stirring constantly, until the broth has been completely absorbed. Continue to cook, adding more broth, 1 cup at a time as each previous addition is absorbed, until the rice is al dente, 18 to 20 minutes total cooking time. If you use all of the stock before the rice is al dente, add a bit of hot water as needed. (You should have just the right amount of stock.) Add the herbs, lemon zest and the remaining 1/4 teaspoon of pepper. Taste and adjust the seasoning if necessary.
Add the shrimp, asparagus, and half of the Parmesan to the pan and stir to combine. Cook until the shrimp and asparagus are heated through, the cheese is melted and the risotto has a creamy texture, 1 to 2 minutes. Serve immediately, in shallow bowls, garnished with the remaining Parmesan.
This recipe was styled by chef Karen Pickus for Good Morning America.
Recipe courtesy Emeril Lagasse, adapted from Sizzling Skillets and Other One Pot Wonders, soon to be released by Harper Collins Publisher, New York, 2011, copyright MSLO, Inc., all rights reserved
Other Recipes That You Might Like