Emeril's Pan-Roasted Asparagus with Shiitake Mushrooms and Cherry Tomatoes
Fill Up Delicious Side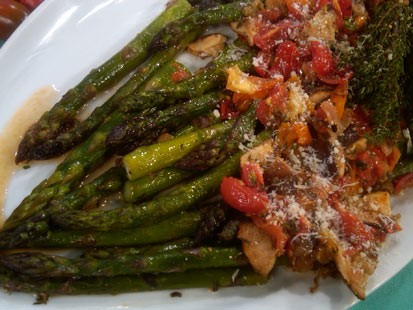 From the kitchen of Emeril Lagasse
There's nothing like fresh vegetables for dinner. Fill up on them with this Emeril recipe.
Ingredients
3 tablespoons olive oil
1 large shallot, sliced crosswise into rings
1 pound asparagus, woody portion of stems removed
4 ounces shiitake mushrooms, wiped clean, stemmed, and quartered
2 ounces cherry or grape tomatoes, quartered
1 teaspoon fresh thyme leaves
1 tablespoon freshly grated Parmigiano-Reggiano cheese
Cooking Directions
Preheat the oven to 400°F.
Heat 2 tablespoons of the olive oil in a large ovenproof sauté pan over medium-high
heat. When the oil is hot, add the shallot and cook for 30 seconds. Add the asparagus and cook for 3 minutes. Push the asparagus to one side of the pan, and add the remaining 1 tablespoon olive oil and the shiitake mushrooms. Cook for 3 to 4 minutes, allowing the mushrooms to brown. Add the tomatoes and the thyme, and cook for another 2 minutes, tossing the
ingredients together.
Transfer the pan to the oven and cook for 3 to 4 minutes, or until the asparagus is crisp-tender.
Transfer the asparagus mixture to a serving platter, garnish with the cheese, and serve immediately.
This recipe was styled by chef Karen Pickus for Good Morning America.
Recipe courtesy Emeril Lagasse, from Emeril 20-40-60: Fresh Food Fast, Harper Studio Publisher, New York, 2009, copyright MSLO, Inc., all rights reserved
Recipe Summary
Main Ingredients: olive oil, mushrooms, asparagus, cherry tomatoes, shiitake mushrooms
Course: Appetizer/Starter, Side Dish