Food Truck Find: Beer-Battered Avocado Tacos
This Tasty Treat is One of Robin Roberts' Favorites!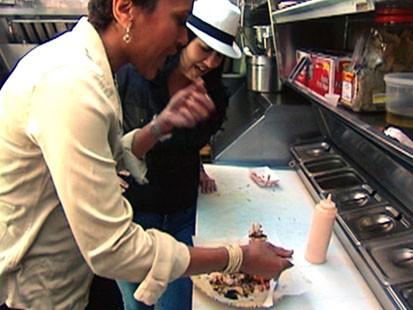 From the kitchen of 'GMA' Reality Week
|
Robin Roberts joins her 'GMA' colleagues' Reality Week adventures when she goes in search of the next great food truck. She found a great recipe for beer-battered avocado tacos. Why don't you give it a try in your kitchen?
Ingredients
1 Hass avocado
2 cups Panko bread crumbs
Beer batter (recipe follows below)
Seabird sauce (recipe follows below)
8 (4-inch) white corn tortillas
Green cabbage, shredded, for garnish
Red cabbage, shredded, for garnish
Diced red onion, for garnish
Fresh lime wedges, for garnish
Cooking Directions
1. In a medium dutch oven or deep-fryer, fill oil to a depth of 3 to 4 inches (no more than halfway up the sides of the pan.) Heat oil to 375 degrees F over medium-high heat.
2. Quarter a Hass avocado (or cut into sixths, depending on size).
3. Toss cut avocado in Panko breadcrumbs, until coated.
4. Dip coated avocado wedges in beer batter, and carefully drop into hot oil. Fry wedges, in batches, until golden brown -- about 2 to 4 minutes. Using a slotted spoon, remove slices and drain on a paper towel-lined plate.
5. Warm corn tortillas wrapped in foil in the oven, or by lightly grilling them.
6. Assemble the tacos: Layer 2 warmed tortillas per taco and top with a fried avocado wedge. Garnish with seabird sauce (recipe below), green and red cabbage, a sprinkle of red onion, and a squeeze of fresh lime juice. Serve immediately.
SEABIRD'S BEER BATTER
2 cups Mexican beer
2 cups all-purpose flour
2 teaspoons salt
2 teaspoons sugar (or agave syrup)
1 teaspoons baking powder
2 teaspoons Sriracha (a garlic-chili sauce)
Combine all ingredients in a blender and blend until smooth.
SEABIRD SAUCE
1 large jar (approx 20 ounces) vegenaise
1 large handful fresh cilantro
2 jalapenos
Pinch of salt
4 cloves garlic, peeled
Juice of 2 limes
Combine all ingredients in a food processor, except vegenaise and process until combined. Add vegenaise and pulse until mixture comes together.
This recipe was styled by chef Karen Pickus for "Good Morning America."
Other Recipes That You Might Like