Emeril's Warm-Weather Potato Salad
Give This Flavorful Dish a Try Today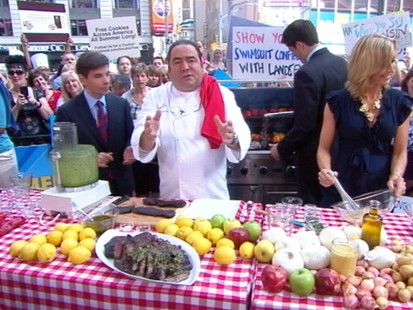 Emeril Lagasse also prepares potato salad for a memorable Memorial Day feast.
From the kitchen of Emeril Lagasse
Spring is here and it's time to change up your daily dinner. This potato salad is the perfect answer to your side dish needs.
Ingredients
2 pounds small red potatoes, quartered
1 small (5-ounce) white onion, halved
Dressing:
3 tablespoons white balsamic vinegar
1 tablespoon cider vinegar
1/2 teaspoon Dijon mustard
1/4 teaspoon honey
1/4 cup olive oil
1 tablespoon minced shallots
1 tablespoon chopped fresh chervil
2 teaspoons chopped fresh chives
1 teaspoon chopped fresh parsley
1 teaspoon chopped fresh cilantro
1 teaspoon salt
1/2 teaspoon freshly ground white pepper
Cooking Directions
Place the potatoes and the onion in a pot and add enough salted water to cover by at least 3 inches. Bring the water to a boil and immediately reduce to a simmer. Cook until the potatoes are tender, about 15 minutes.
Meanwhile, make the dressing by combining the white balsamic vinegar, cider vinegar, Dijon mustard, and honey in a small mixing bowl. Whisk to combine. Slowly drizzle in the olive oil in a slow, steady stream, stirring constantly. Stir in the shallots, chervil, chives, parsley, cilantro, 1 /2 teaspoon of the salt, and 1 /4 teaspoon of the pepper. Let the dressing sit for at least 10 minutes at room temperature for the herbs to infuse their flavor.
Drain the potatoes and discard the onion. Transfer the potatoes to a serving bowl. Stir the dressing just before pouring it over the potatoes, season with the remaining salt and pepper, and toss to coat well. Serve warm or at room temperature
This recipe was styled by chef Karen Pickus for Good Morning America.
Recipe courtesy Emeril Lagasse, from Emeril at the Grill, Harper Studio Publishers, New York, 2009, copyright MSLO, Inc., all rights reserved
Recipe Summary
Main Ingredients: red potato, white onion, white balsamic vinegar, dijon mustard
Course: Dinner, Lunch, Party Platter, Snack, Starch