Mexicue Brisket Slider
Mexican spicy rubbed and smoked Brisket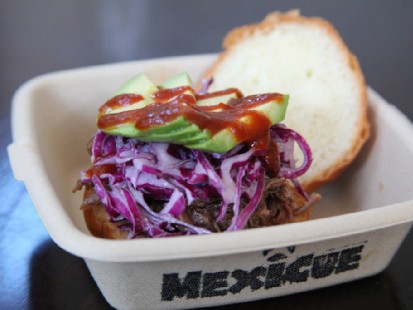 Zagat's throws a yummy food truck frenzy block party.
From the kitchen of Harte Singer
|
Ingredients
Ingredients:
• cup of your favorite barbecue spice rub (or equal parts cayenne, brown sugar, and cumin)
• 1 large brisket
• 2 cups of your favorite barbecue sauce
• 1 head red cabbage, thinly sliced
• 1 habanero pepper, finely chopped
• ¾ cup mayo
• 3 tablespoons champagne vinegar
• 2 teaspoons sugar
• 2 avocados, sliced thinly
• 12 slider buns
Cooking Directions
-Mexicue Brisket Slider
For our signature Mexicue Brisket Slider, we do a sixteen hour smoke using hickory wood. We've adapted the recipe for the home cook, who may not have access to a commercial smoker.
Trim the brisket of excess fat and thoroughly cover with spice rub. Wrap and chill for at least three hours, ideally 24 hours. The brisket can be cooked in a few ways depending on the equipment available:
1. Smoke in a commercial smoker for 16 hours at 220 degrees
2. Smoke in a residential smoker for 3 hours, wrap in foil, and finish in the oven at 350 degrees for about 5-6 hours
3. Roast uncovered at 350 degrees for 2 hours, wrap in aluminum foil and roast for another 5-6 hours.
The meat should be cooked until it is tender enough to pull apart easily. Once the brisket has finished cooking, rest for 10 minutes, remove excess fat and shred the meat.
While the brisket is cooking, prepare the slaw. Finely chop the habanero pepper and saute over medium heat in olive oil for about 10 minutes. Cool. Combine cooled habanero, mayo, champagne vinegar, sugar and thinly sliced cabbage. Thoroughly combine, cover, and chill.
Place shredded brisket on each slider bun and top with slaw, sliced avocado, and barbecue sauce.
Recipe Summary
Main Ingredients: brisket, red cabbage, habanero pepper, champagne vinegar, sugar, avocados, buns, bbq sauce
Course: Side Dish, Appetizer/Starter, Brunch, Dinner, Main Course
Other Recipes That You Might Like