Rachael Ray's BBQ Pulled Chicken Sliders!
Lots of Flavor, Very Little Fuss!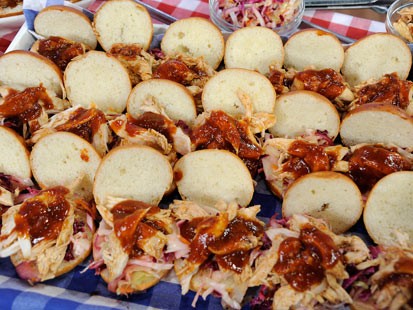 From the kitchen of Rachael Ray
Ingredients
For the Poached Chicken
6 bone-in chicken breasts or thighs
1 large onion, peeled and quartered
1 carrot, peeled and rough chopped
2 celery stalks, rough chopped
2 fresh bay leaves
1 orange, sliced into 1/2 inch slices
A handful of fresh thyme and rosemary tied together with kitchen twine
For the Barbecue Sauce
1 cup ketchup
2 large cloves garlic, finely chopped
2 tablespoons dark brown sugar
2 tablespoons dark amber maple syrup
1 tablespoon Worcestershire sauce
1 ½ tablespoons cider vinegar
1 teaspoon ground cumin, 1/3 palmful
2 teaspoons ground coriander
Juice and zest of 1 orange
2 ounces bourbon
Coarse black pepper
For the Fennel Orange Slaw
1/2 pound shredded cabbage slaw salad mix with carrot and purple cabbage or 1/4 head white cabbage, shredded
1/2 small red onion, very thinly sliced
1 small bulb fennel, quartered, cored, and thinly sliced
1 tablespoon cider vinegar
1 lemon, juiced
1 tablespoon honey
2 tablespoons EVOO, extra virgin olive oil
1 tablespoon dried orange peel, such as McCormick, about a palmful
Salt and pepper
15 Brioche slider rolls, about 3 inches in diameter (preferably Iggy's brand)
Cooking Directions
To poach the chicken, place the chicken in a deep skillet or pot along with the onion, carrot, celery, bay leaves, orange slices and herbs. Cover with enough water to barely cover the chicken. Bring up to a simmer on medium heat and cook until the chicken is fully cooked, about 12 to 15 minutes. When the chicken is cooked, remove from the pot and reserve on a plate until cool enough to handle. Shred the meat with your hand or using two forks. Strain the poaching liquid through a fine mesh strainer and place back in the pot over medium high heat. Let the liquid reduce by half and set aside.
While the chicken is poaching, combine all of the BBQ sauce ingredients in a medium size sauce pot and let cook over low heat for about 15 minutes, or until the flavors come together and the sauce slightly thickens. Add in the reduced poaching liquid, a half cup at a time, or as needed, to make the pulled chicken mixture come together.
For the fennel slaw, place the cabbage, red onion and fennel in a medium mixing bowl. Add the vinegar, lemon, honey, extra virgin olive oil, dried orange peel, salt and pepper and mix to combine.
In a large bowl or pot, add the shredded chicken and pour the Bourbon BBQ over the chicken, adding a little more poaching liquid as needed.
To serve, place a pile of the Bourbon-BBQ pulled chicken on the bottom of the bun and top with some fennel slaw.
Makes approximately 15 sliders.
This recipe was styled by chef Karen Pickus for "Good Morning America."
Recipe Summary
Main Ingredients: chicken, fennel, orange peel
Course: Lunch