Emeril's Chili-Spiced Sirloin Burgers With Grilled Onions
Spice Up Dinner with Emeril's Chili-Spiced Burgers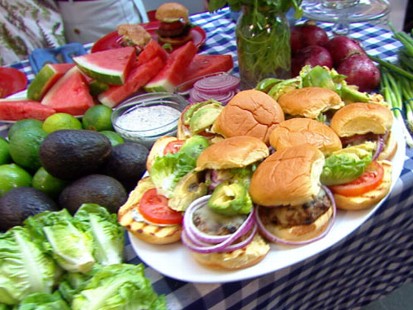 Chili-spiced sirloin burger wins top spot in 'GMA' viewer opinion poll.
From the kitchen of Emeril Lagasse
Fire up the grill for Emeril's spicy burgers. These tasty burgers have grilled onions and a sauce with just enough of a kick that you might want to keep a glass of water next to you. If you like spice, you'll love this recipe.
Ingredients
For the spice:
2 teaspoons ancho chili powder
1/2 teaspoon ground cumin
1/2 teaspoon chipotle powder
1/2 teaspoon chili powder
1/2 teaspoon dried oregano
1/2 teaspoon salt
For the burger:
2 pounds ground beef, such as sirloin or chuck, preferably 85/15 blend
3 tablespoons Worcestershire sauce
1 tablespoon Chile Spice Blend for Burgers
2 tablespoons vegetable or olive oil
1 small onion, cut into 1/2-inch-thick rounds
Shredded cheddar or Swiss cheese (optional)
6 hamburger buns
Mayonnaise, for serving
Sliced pickles, for serving
Red-leaf lettuce, for serving
Tomato slices, for serving
Cooking Directions
For the chili-spice:
Combine all the ingredients in a small bowl and stir to blend. Store the spice blend in an airtight
container until ready to use. It will keep up to 6 months in a dark, cool place.
For the burgers:
Cover a baking sheet with aluminum foil or waxed paper, and set it aside.
Place the meat in a large mixing bowl. Add the Worcestershire and the Chile Spice Blend, and mix
gently but thoroughly with your hands until all the ingredients are well incorporated. Form the meat into 6 equal patties, placing them on the prepared baking sheet as they are formed.
Preheat a grill to medium-high. Lightly oil the grate with some of the oil.
Brush the onion slices with the remaining oil. Grill the onion slices, turning them occasionally, until
lightly caramelized, 6 to 8 minutes. Remove them from the heat and set them aside until ready to serve
the burgers.
Place the buffalo patties on the grill and cook for 6 to 8 minutes. Turn the burgers over, place the cheese on the patties if using, and top the patties with the bun top. Cook on the second side for 2 to 3 minutes.
Place the bun bottoms, cut side down, on the grill briefly to toast.
Arrange the bun bottoms on a large platter, cut side up. Top with the desired condiments. Slide the
patties and the bun tops onto the bun bottoms. Serve with the grilled onions.
This recipe was styled by chef Karen Pickus for "Good Morning America."
Recipe courtesy Emeril Lagasse, adapted from Emeril at the Grill, Harper Studio Publishers, New York, 2009, copyright MSLO, Inc. All rights reserved
Recipe Summary
Main Ingredients: sirloin, worcestershire sauce, olive oil, chili powder, chipotle powder
Course: Dinner, Party Platter