Myron Mixon's Zesty Potato Salad
Dig Into This Flavorful Side Dish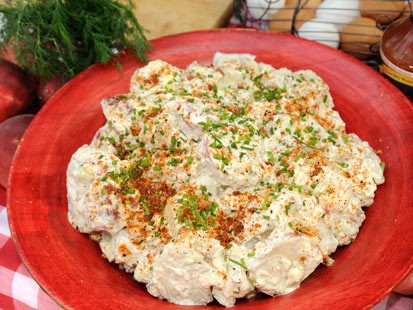 From the kitchen of Myron Mixon
On the second season of Pitmasters, I wasn't a competitor; I was a judge. What can I say—that's what happens when no one can beat you. Anyway, the judging panel consisted of football star Warren Sapp, chef Art Smith, and yours truly. On one episode, we held a competition for the best homemade potato salad. I pride myself on my potato salad. I said to the contestants, "You got to have mayonnaise to have a good potato salad." I don't care what else you put in it—it's got to be a little bit creamy.
Ingredients
2 pounds red- skinned new potatoes
1 cup sour cream
1 teaspoon dried dill weed
½ teaspoon garlic powder
½ teaspoon onion powder
¹³ cup chopped fresh chives
1 cup mayonnaise
1 tablespoon coarsely ground black pepper
1 tablespoon salt
6 hard- boiled eggs, chopped
Basic Barbecue Rub (page 20), for garnish (optional)
Cooking Directions
Wash the potatoes well. In a large heavy pot, bring water to a boil. Add the potatoes and boil for 15 to 20 minutes, or until they are tender, being careful not to overcook them, as you don't want them mushy.
Drain the potatoes in a colander, and run cold water over them to stop them from continuing to cook. Let them cool in the colander.
Slice the potatoes into thin rounds, leaving the skin on. Set aside.
In a medium bowl, combine the sour cream, dill, garlic powder, onion powder, chives, mayonnaise, pepper, and salt. Stir well.
In a large bowl, toss the potatoes with the chopped eggs and the sour cream dressing. Cover the bowl and chill in the refrigerator for 2 hours before serving. Sprinkle top with basic barbecue rub before serving, if desired.
This recipe was styled by chef Karen Pickus for "Good Morning America."
© 2011 Myron Mixon from Smokin' with Myron Mixon (Ballantine Books)
Recipe Summary
Main Ingredients: red skin potatoes, dill, sour cream
Course: Dinner
More Info: Kid Friendly