Erin Chase's Shredded Beef Sandwiches with Red Cabbage and Apple Slaw
Fill Up on These Savory Sandwiches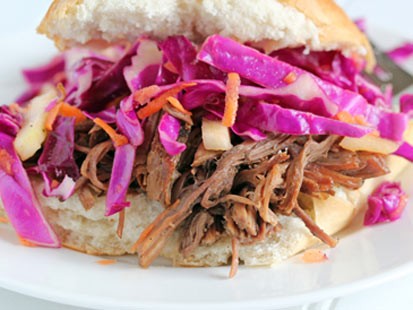 From the kitchen of Erin Chase
These tasty sandwiches are not only delicious, they are also easy to make an inexpensive.
Ingredients
About 1 – 1 1/4 lb chuck roast
1 Tbsp chili powder
1 tsp ground cumin
Couple dashes salt and pepper
1 cup beef broth or water
3 cups shredded red cabbage
2 apples, peeled, cored and julienned
4 carrots, peeled and shredded
3 Tbsp olive oil
1/4 cup apple cider vinegar
1/2 tsp ground cumin
1 tsp salt
Couple dashes pepper
Buns, homemade or store bought
Cooking Directions
Place the beef roast into the slow cooker with the chili powder, cumin, salt and pepper and water/broth. Set on low and cook for 8 hours. Once finished cooking, remove the meat from the liquid and pull apart and shred with 2 forks.
In a mixing bowl, toss together the cabbage, apple pieces, shredded carrots.
In a small resealable container, add the olive oil, vinegar, cumin, salt and pepper. Shake, shake, shake. Then pour over the cabbage mix.
To serve, spoon some shredded beef onto the buns and top with the slaw. Use small dinner rolls for "sliders," or regular buns for sandwiches.
Serve with a side of fresh fruit, or as is. (Just the sandwich itself was meal enough for me!)
Erin Chase is the author of "The $5 Dinner Mom Cookbook" and "The $5 Dinner Mom Does Breakfast and Lunch," the founder of $5 Dinners.com and OneDishDinners.com and and she is the co-Founder of Savvy Blogging and The Savvy Blogging Summit.
Recipe Summary
Main Ingredients: ground chuck, chili powder, cumin, beef broth, apples
Course: Dinner