Erin Chase's Grilled Red Potatoes
Simple and Tasty Potatoes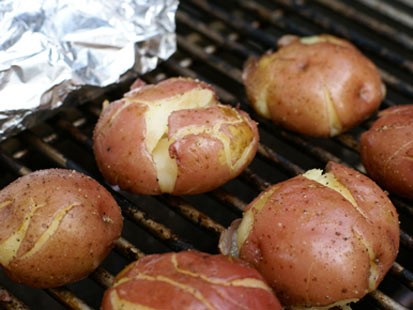 From the kitchen of Erin Chase
These potatoes are the perfect summer side. Give them a try this Father's Day.
Ingredients
12 red potatoes ($1.99
1-2 Tbsp olive oil ($.10)
Salt and pepper to taste
Cooking Directions
Boil the red potatoes whole for 25-30 minutes…just the same amount of time that the steak needs to marinate.
After the potatoes have cooked through from boiling, set them out onto a kitchen towel and let them sit for 10-15 minutes.
Meanwhile, turn on the grill.
After the potatoes have cooled down some, take the kitchen towel and put it over the potato and gently press down, cracking the skin…but not so hard that the potato falls out! Place in a pyrex dish or serving dish. Brush with olive oil and season with salt and pepper.
Grill the pressed red potatoes for 5-6 minutes per side.
Erin Chase is the author of "The $5 Dinner Mom Cookbook" and "The $5 Dinner Mom Does Breakfast and Lunch," the founder of $5 Dinners.com and OneDishDinners.com and and she is the co-Founder of Savvy Blogging and The Savvy Blogging Summit.
Recipe Summary
Main Ingredients: red potatoes, olive oil, salt, pepper
Course: Dinner
More Info: Kid Friendly