Erin Chase's Cashew Caramel Brownies
Ooey-Gooey Brownies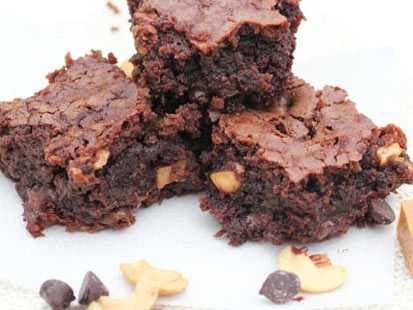 From the kitchen of Erin Chase
These brownies are delicious. After one bite the entire plate might disappear.
Ingredients
4 oz. bittersweet baking chocolate, chopped
1 cup (dairy-free) margarine or butter
2 cups chocolate chips, divided
4 eggs
1 3/4 cup sugar
2 tsp vanilla
1 cup flour
1 tsp baking powder
1/2 tsp salt
20 caramel chew candies, cut into quarters
1 cup cashews, chopped
Cooking Directions
Preheat the oven to 350 and grease and flour a 9×13 inch baking dish.
Melt the chopped baking chocolate with the margarine or butter and 1 cup of the chocolate chips in a glass bowl in the microwave for 1 1/2 minutes. Stir together. Let cool while you start on the next part.
In a stand mixer or mixing bowl, beat together the eggs, sugar and vanilla. After the chocolate mixture has cooled, beat it into the eggs mixture. Stir in the flour, baking powder and salt.
Then gently fold in the rest of the chocolate chips, the caramel candy pieces and the chopped cashews. Pour the batter into the prepared baking dish.
Bake in the preheated oven for 30 to 35 minutes, or until toothpick comes out clean in the center.
Let cool slightly before cutting and serving. Serve warm so the caramels are ooey, gooey good!
To serve after cooled, warm them in the microwave for 8 to 10 seconds, or long enough to make the caramels soft again!
Erin Chase is the author of "The $5 Dinner Mom Cookbook" and "The $5 Dinner Mom Does Breakfast and Lunch," the founder of $5 Dinners.com and OneDishDinners.com and and she is the co-Founder of Savvy Blogging and The Savvy Blogging Summit.
Recipe Summary
Main Ingredients: baking chocolate, chocolate chips, butter
Course: Dessert