Anne Burrell's Grilled Red Potatoes and Onions
A Surprising, Grilled Take On the Classic Red Potato!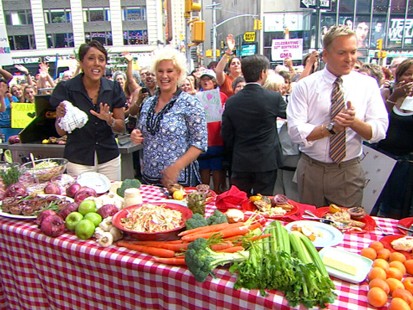 "Secrets of a Restaurant Chef" host prepares a complete meal perfect for summer.
From the kitchen of Anne Burrell
Who knew you could grill a potato! This recipe saves the potato from the oven and throws it onto the grill for a flavorful, juicy twist on the standard side dish.
Ingredients
4 large red-skinned potatoes, scrubbed and cut into 1/2-inch rounds
1 red onion, peeled and cut into 1/2-inch rounds
1 sprig rosemary, leaves finely chopped
2 cloves garlic, smashed
Pinch crushed red pepper flakes
Kosher salt
Extra-virgin olive oil
Cooking Directions
Preheat the grill and brush with a metal grill brush to loosen any crud and soot. After the grill has been brushed, run an oiled towel over the grill to pick up any loosened crud.
In a large bowl, toss the potatoes and onions together with the rosemary, garlic, crushed red pepper, salt, to taste, and a little olive oil. Try to keep the onions together in rounds, they will fall apart while grilling but try and keep them together as long as possible; it just makes things easier.
Arrange the potatoes and onions on the preheated grill. Once the potatoes have developed lovely grill marks, rotate them a quarter turn to create a lovely crosshatch pattern, (don't worry about the onions, they fall apart and you won't see the marks). Turn the potatoes over and repeat the process, turn the onions over to cook the other side as well. Cook the potatoes and onions until they are soft all the way through, about 8 to 10 minutes on each side.
Remove from the grill and serve hot or at room temperature.
This recipe was styled by chef Karen Pickus for "Good Morning America."
Recipe Summary
Main Ingredients: red-skinned potatoes, onion, rosemary, garlic, crushed red pepper flakes, salt, extra-virgin olive oil
Course: Dinner, Side Dish
More Info: Kid Friendly