Anne Burrell's Broccoli Stem and Carrot Slaw
A Fruit and Veggie Twist To Your Classic Coleslaw!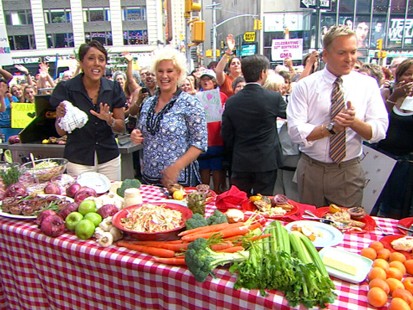 "Secrets of a Restaurant Chef" host prepares a complete meal perfect for summer.
From the kitchen of Anne Burrell
|
Take advantage of summer's fresh fruits and vegetables to make this delicious broccoli and carrot slaw. The surprise ingredient, a Granny Smith apple, gives the slaw a refreshing crunch that will leave you, and your guests, coming back for more!
Ingredients
6 broccoli stems (save the tops for something else), peeled and julienned on a mandolin
4 carrots, peeled and julienned on a mandolin
3 celery ribs, julienned
1 red onion, julienned
1 Granny Smith apple, skin on, julienned
1/2 cup julienned cornichons
1 1/2 cups mayonnaise
1/4 cup Dijon mustard
1/4 cup cider vinegar
1 clove garlic, smashed and finely chopped
Kosher salt
Cooking Directions
Combine all the ingredients. Season with salt to make sure it is delicious. Let sit for at least 1 hour before serving.
This recipe was styled by chef Karen Pickus for "Good Morning America."
Recipe Summary
Main Ingredients: broccoli, carrots, celery, red onion, granny smith apple, cornichons, mayonnaise, dijon mustard, cider vinegar, garlic, salt
Course: Dinner, Side Dish, Party Platter, Salad
More Info: Kids Friendly
Other Recipes That You Might Like