Home
>
GMA
>
Recipes Home
>
Anne Burrell's Apricot Nectarine Shortcake with Vanilla Whipped Cream
Anne Burrell's Apricot Nectarine Shortcake with Vanilla Whipped Cream
A Delicious Summer Dessert!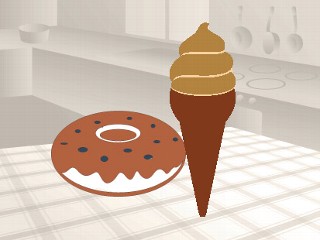 From the kitchen of Anne Burrell
|
The shortcakes and apricot and nectarine filling make this dessert light, and easy, enough to serve with dinner, yet tasty and fancy enough to serve at a party too. Feature it on the dessert table of your next party, or dish it out for dessert tonight!
Ingredients
Shortcakes:
2 cups all-purpose flour
2 tablespoons sugar, plus 2 tablespoons for sprinkling
1 tablespoon baking powder
Pinch salt
1 stick unsalted butter, chilled, cut into pea-size pieces
1/2 cup heavy cream
Fruit:
1/4 cup unsalted butter
5 apricots, pitted, cut into sixths
5 nectarines, pitted, cut into sixths
2 tablespoons sugar
Whipped cream:
1 1/2 cups heavy cream, chilled
1 teaspoon vanilla extract
1 tablespoon sugar
Cooking Directions
Shortcakes:
Preheat the oven to 425 degrees F.
In the food processor combine the flour, 2 tablespoons of sugar, baking powder and salt. Add the butter and pulse until the mixture looks like grated Parmesan cheese. Add the cream and pulse until the mixture looks very crumbly but sticks together.
Remove the blade from the processor and form craggy looking dough balls about the size of a small tennis ball. Put the dough balls on a baking sheet lined with a silpat or parchment paper. Sprinkle each ball with a little sugar. Bake in the preheated oven for about 11 to 12 minutes. Remove from the oven and let cool.
Fruit: Add the butter to a saute pan and melt it over medium heat. Add the fruit and saute for 2 to 3 minutes. Sprinkle in the sugar and saute for another 2 to 3 minutes.
Whipped cream: In a mixing bowl combine the cream and vanilla. Using a whisk or hand beater, beat the cream until it starts to thicken. Sprinkle in the sugar and beat until the cream is very light and fluffy and it holds soft peaks.
To assemble: Cut the shortcakes in half. Spoon a generous amount of the warm fruit filling on the bottoms of the shortcakes. Replace the top and garnish with the vanilla whipped cream.
This recipe was styled by chef Karen Pickus for "Good Morning America."
Other Recipes That You Might Like