Stephanie O'Dea's Vegetarian Tortilla Soup
Slow Cooker Soup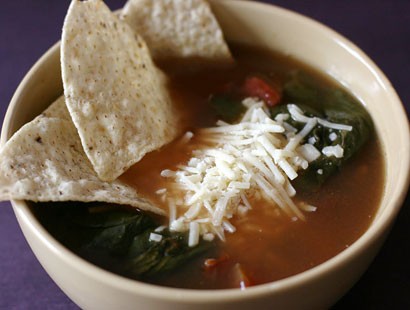 From the kitchen of Stephanie O'Dea
|
Soup! for vegetarians! I get an email (or six) daily telling me that I need to make more vegetarian dishes. I know. I'm sorry. I'm not trying to exclude you, I promise. I just sometimes forget that dinner isn't synonymous with meat.
This is a fantastic soup -- the dried beans add protein and fiber, and I like the smoky flavor from the paprika and chipotle chile powder. There's some heat here, but if you use the floating pepper trick instead of cutting, the heat doesn't burn but instead nicely warms.
This can also be totally vegan-friendly if you skip the cheese (or use an alternative) I sprinkled on top.
Ingredients
1 cup dried pinto beans, soaked overnight
1 (15-ounce) can fire-roasted tomatoes
1 medium yellow onion, diced
3 garlic cloves, minced
1/2 teaspoon dried oregano
1/4 teaspoon chipotle chile powder
1/2 teaspoon smoked paprika
1/2 teaspoon kosher salt
4 cups vegetable broth
4 cups water
4 whole serrano chiles
baby spinach (to add later, optional)
Cooking Directions
Use a 6-quart slow cooker. Put the presoaked beans into your slow cooker. If you don't have time to soak the beans overnight, you can quick soak them by boiling rapidly on the stove for 10 minutes, and then letting the beans sit in the closed pot of hot water for 1 hour. Drain and then put into the cooker.
Add the entire can of tomatoes, the onion, and the garlic. Follow with all the spices and then pour in the broth and water. Wash and float the uncut peppers on top.
Cover and cook on low for 8 to 10 hours, or on high for 4 to 5. Remove the chiles before serving. If desired, drop in a few handfuls of baby spinach into the pot and stir. The spinach will wilt quickly! If you'd like, garnish with shredded cheese or sour cream (or both!)
Stephanie O'Dea's newest slow cooker book is More Make it Fast, Cook it Slow: 200 Brand-New, Budget-Friendly Slow-Cooker Recipes.
Other Recipes That You Might Like