Michael Symon's Tomato Salad with Red Onion, Dill and Feta
Celebrate Summer With This Salad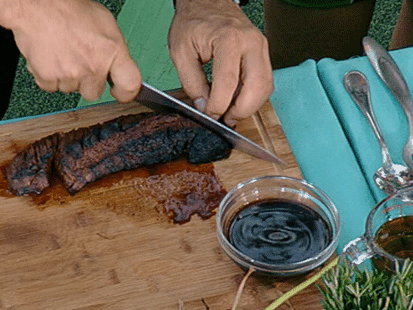 Co-host of "The Chew" prepares classic summer dishes with a new spin.
From the kitchen of Michael Symon
|
Tomatoes are in season and more delicious than ever. So give this salad a try for dinner tonight.
Ingredients
1 pound heirloom tomatoes (use an assortment of shapes, sizes and colors)
1 red pepper, seeded and cut into 1- inch chunks
1 half red onion, shaved thinly and soaked in ice water for 10 minutes
¼ pound cucumber (approximately 1/3 cucumber), thinly sliced
1 clove garlic, minced
1 cup pitted whole kalamata olives
1 cup barrel-aged feta, crumbled
¼ cup fresh dill, roughly chopped
¼ cup fresh mint, roughly chopped
¼ cup red wine vinegar
½ cup extra virgin olive oil
Salt and pepper to taste
Cooking Directions
Cut the tomatoes into bite sized chunks. Drain the onion and pat dry. Place the garlic, a pinch of salt and the vinegar into a large mixing bowl. Drizzle in the olive oil while whisking. Add all ingredients except the tomatoes and feta and let marinate for 15-20 minutes. Add the tomatoes and feta and toss gently to combine. Add salt and pepper to taste.
Place on a large platter and serve immediately.
This recipe was styled by chef Karen Pickus for Good Morning America.
Recipe courtesy of Michael Symon
Other Recipes That You Might Like