Stephanie O'Dea's Slow Cooker Moroccan Lentil Soup
Fill Up On This Delicious Dish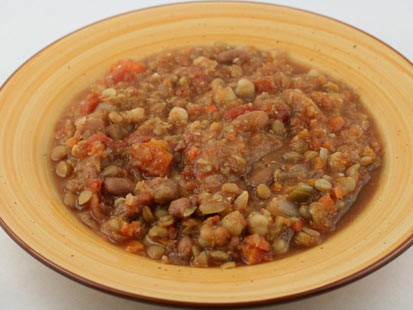 From the kitchen of Stephanie O'Dea
Lentils are great little beans: they are fat free, packed with soluble fiber, loaded with protein, and mild in flavor. There is no need to soak lentils before tossing into the slow cooker -- another bonus!
I was recently reminded of this fantastic soup when a reader wrote in that she was entertaining a group of hikers for the weekend. She served the soup, right out of the crock, alongside a pot of rice and sliced corn tortillas and her hungry guests lapped everything up.
Ingredients
1 cup dried lentils
1 (15-ounce) can garbanzo beans, drained and rinsed
1 (15-ounce) can pinto beans, drained and rinsed
1 onion, chopped
2 garlic cloves, smashed and chopped
1/2 cup chopped celery
1/2 cup chopped carrots
1 (28-ounce) can of diced tomatoes (and juice)
4 cups vegetable broth
1 1/2 teaspoon garam masala
1/2 teaspoon cayenne pepper
1/2 teaspoon cumin
1/4 teaspoon nutmeg
1/4 teaspoon cinnamon
1 inch ginger, peeled and grated
Cooking Directions
Use a 6-quart slow cooker for this recipe. It makes a lot.
Chop up all of your vegetables and add them to the cooker. If you are rushed in the morning, consider chopping the vegetables at night---it took me longer than I wanted it to. Drain and rinse off the beans, add to the pot. Add the dried lentils. Grate your ginger, and add it along with the dried spices. Stir in the vegetable broth and tomatoes.
Cover and cook on low for 8-10 hours. Soup tastes best the longer you cook it, and it is even better the next day.
Before serving, use a hand-held stick blender and pulse to blend some of the vegetables and beans together. This isn't necessary, but it really improves the texture of the soup and melds the flavors nicely.
other great bean and lentil dishes:
Stephanie O'Dea's newest cookbook is More Make it Fast, Cook it Slow: 200 Brand-New, Budget-Friendly Slow-Cooker Recipes.
Recipe Summary
Main Ingredients: lentils, garbanzo beans, pinto beans, ginger, nutmeg, cumin
Course: Soup