Mark Gaier and Clark Frasier's Coleslaw With Caraway Seeds
The Perfect Side to for Your Lobster Roll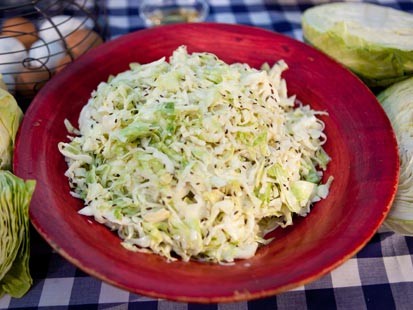 From the kitchen of Mark Gaier and Clark Frasier
Caraway is an unusual, unexpected flavor to find somewhere other than bread. This coleslaw can add a real zip to your lunch, and an exotic flavor that's not just for rye bread anymore. Try this slaw with our lobster roll and it will change your life, or at least your lunch.
Ingredients
For the slaw:
1 tablespoon caraway seeds
1 (1-pound) green cabbage head, finely sliced
2 teaspoons kosher salt
2 teaspoons sugar
1/3 cup mayonnaise (recipe follows)
3 tablespoons cider vinegar
For the mayonnaise:
5 large egg yolks
Juice from one lemon, about 3 tablespoons
3/4 cup olive oil
1/4 cup extra virgin olive oil
Kosher salt and freshly ground black pepper
Cooking Directions
For the mayonnaise:
Combine the egg yolks and lemon juice in the bowl of a food processor fitted with a metal blade. Process the mixture for 20 seconds. With the machine running, add both of the olive oils, drop by drop, and then slowly increase to a steady stream as the eggs and oil become emulsified. If the mixture gets very thick, thin it with a teaspoon of ice water. The consistency should be a little thinner than store-bought mayonnaise. Season with salt and pepper to taste. Store in a tightly sealed container in the refrigerator for up to a day.
For the slaw:
Toast the caraway seeds in dry sauté pan on low heat for 5 minutes. Set aside. In a bowl, toss the cabbage with the salt and sugar. Place the cabbage in a colander and press it down with a weight over a bowl for 1 hour. Remove the cabbage from the colander and mix the cabbage with the mayonnaise, caraway seeds, and cider vinegar. Chill and serve.
This recipe was styled by chef Karen Pickus for Good Morning America.
*Recipe courtesy of Mark Gaier and Clark Frasier from their cookbook, Maine Classic; Running Press, 2011
Recipe Summary
Main Ingredients: mayonnaise, green cabbage, carraway seeds, cider vinegar
Course: Side Dish
More Info: Kid Friendly