Mark Gaier and Clark Frasier's Shortcakes With Berries
Dig Into This Sweet Treat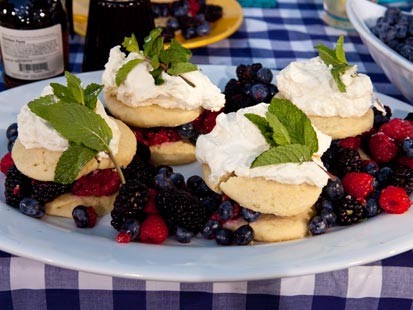 From the kitchen of Mark Gaier and Clark Frasier
|
Nothing screams summer like shortcake with berries. Most recipes go right for the classic strawberry shortcake, but in our home state of Maine, where blueberries, blackberries, and raspberries grow right by the side of the road, why not take advantage of what's outside the door? Just take a look at what's in season and offer this treat with our Maple Whipped cream.
Ingredients
1 1/2 cups all-purpose flour
1 1/2 teaspoons baking powder
1/2 teaspoon baking soda
2 tablespoons sugar, divided
12 tablespoons (1 1/2 sticks) cold butter, cubed
3/4 cup buttermilk
1/4 cup heavy cream
1 cup raspberries
1 cup blueberries
1 cup blackberries
Cooking Directions
Preheat the oven to 325°F. Combine the flour, baking powder, baking soda, salt, and 1 tablespoon of the sugar in a bowl. Cut the butter into the dry ingredients. Add the buttermilk, a bit at a time until a soft dough is formed. Roll the dough out to 1/2-inch thickness and cut with 3-inch round cookie cutters. Place the cakes on a cookie sheet and brush with cream. Bake until lightly brown, about 15 minutes.
Toss the berries with the remaining 1 tablespoon of the sugar. Split each short cake in half horizontally. Place two halves on the plate and then top with berries. Top with the remaining halves to create a sandwich. Add a dollop of whipped cream on top of each sandwich.
This recipe was styled by chef Karen Pickus for Good Morning America.
*Recipe courtesy of Mark Gaier and Clark Frasier from their cookbook, Maine Classic; Running Press, 2011
Other Recipes That You Might Like